Innovative Ideas Are Unveiled at Dwolla, Etsy Ecommerce Hack Day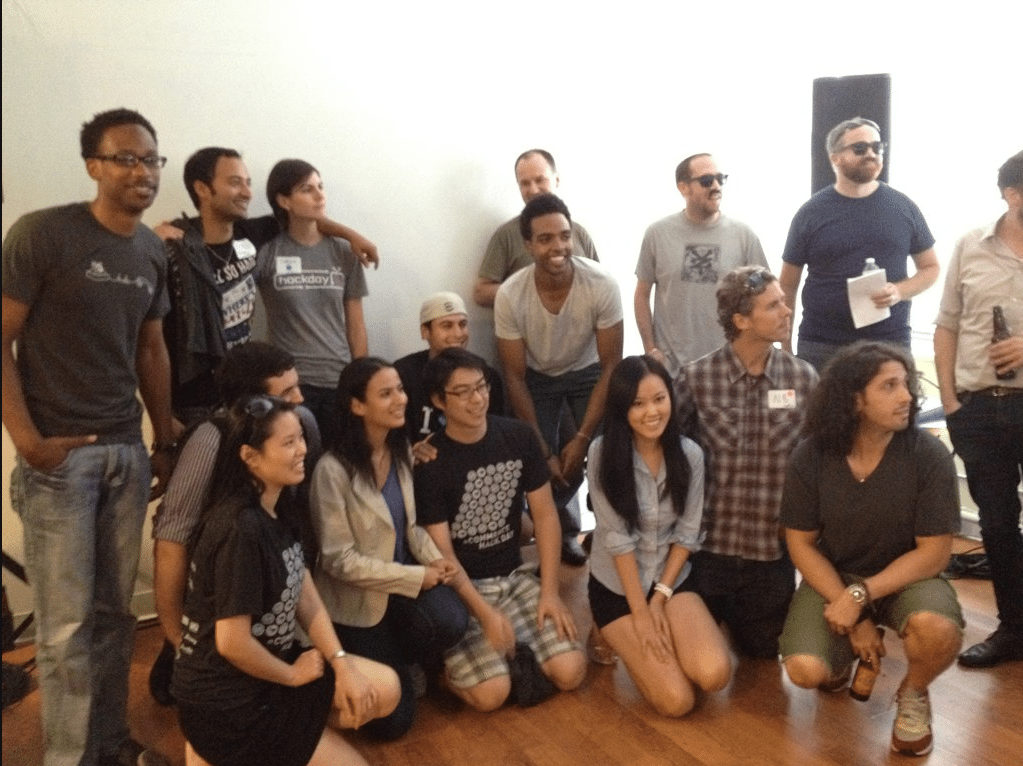 This past weekend the MyBankTracker team had the opportunity to attend the first ever Ecommerce Hack Day, hosted by Dwolla and Etsy. Held at the AlleyNYC in New York's Fashion District, we figured it would be worth sharing our experience.
Like most hackathon events, this one started early Saturday morning and ended in the late afternoon Sunday. With participants coming from all over the United States and Canada, the outcome was more of a marathon then a steady development process, with many hacking through the night over the two-day event.
More than 225 individuals turned out, which included an A-list of judges, developers (hackers), designers, volunteers and press. With 800 originally RSVP'ing for the event, Dwolla and Etsy forced potential participants to complete a puzzle algorithm so to flush out the not-so-serious entries.
If Hack Day Events are a new concept for you, their main goal is pretty simple; educate others to better engage people by using the participating brands data, software or technology. Canada-based Terapeak, payment platform WePay and Foursquare were among the list of tech companies looking to spread the word about their open source technology.
While MyBankTracker did not participate in the actual hacking, we did swing by Sunday to see if the event lived up to everything we expected in a hack event. The end result did not disappoint. Many of the participants hoping to score one of the $15,000 plus in prizes were still cranking away on the final touches of their demos — fueled by the buckets of refreshments (ranging from water to energy shots) to the stacks of pizzas,.
By 2 p.m. the press had fully arrived and 37 different teams entertained us, demoing their hacks with the hope of winning one of the many prizes, including the grand prize of $6,000 cash.
While the 37 demos ranged from actual business ideas to just plain silly, three stood out as viable options in the FINTECH payments space.
And the winners are …
First was Dollarly, which took third place and $1,500 in cash. The effort was led by Adam Leibsohn, founder of Voyurl, allowed consumers to sell items via Twitter by sending out a tweet with a unique tag, at which anyone who replied with a corresponding response would be able to complete the purchase using Dwolla, but without having to leave Twitter.
The Dollarly demo was a pretty amazing concept and instantly had us discussing if Twitter would ever consider doing something like this to enter the payment arena. For those of you who are Amex members, you maybe using the closest form of payment Twitter has right now. Our point of view is that Dollarly is far superior and scarier.
Another payments focused demo was FriendlyFeast, which we later renamed GroupTakeOut. Although it didn't win one of the main prizes, the effort did receive four awards. FriendlyFeast solves that pesky in-office issue of taking teammates' lunch orders. The demo highlighted the ability to order multiperson takeout. Users pick the restaurant — which then sends individual emails to everyone on the team. Those team members repsond to the email with their individual orders and payment info. Then, presto, everyone's lunch arrives together in a single delivery.
The third and probably most technologically advanced was NFC Geeks, which allowed users to buy products in the physical world through NFC chips located in front of physical goods. Here's how it works: picture a store shelf full of items. In front of each item is a little NFC chip widget. Wave your phone over the widget and you've bought the item. People working in the back of the store will send it around for you to pick up. But the truly innovative thing was that the widget also reads bar codes on the items… allowing inventory clerks to move and swap out items any which way. The widget will always register the correct item. This allows for rapid changes in store displays.
Personally, this was one of those "very cool" moments, but because mobile payments industry continues to crawl, this will be just that, a very cool idea.
While the fintech demos offered that "wow" factor, our hope for innovative ideas that offered a business component came from two other demos, which also won the first and second prizes.
Taking second was ShopPapaya. This is one demo we definitely had to give props too as it fooled a number of attendees and even a few judges in thinking that it was a project that had been worked on for months. Yes, it looked that sharp. The demo showcased the ability to be a one-click tool that helps you shop smarter. Launch the ShopPapaya analytics layer over any retailer site to check the latest price trends on eBay. ShopPapaya provides tips on whether you should buy now (prices are rising) or wait to buy (prices are dropping). ShopPapaya is powered by Terapeak. Along with the $2,500 second place prize, they also scored a $5,000 trip to the end of the world, or British Columbia, Canada. Much like the Miss Nev team, this team of two was actually had full-time jobs for a analytics company called Spring Analytics. When asked if they would be pressuring this idea, the answer was a quick no, which was followed up many attendees asking for what it would take to score their idea. No holds barred at these events it seems.
The first prize winner was Miss Nev, designed to help you never miss packages when you're not home. From a ROI model, Miss Nev had a strong offering by also helping businesses generate more traffic. Best of all, the concept was extremely simple: The Miss Nev platform allows businesses to accept packages on behalf of customers in exchange for product purchases. For the AlleyNYC this was especially sweet, as the Miss Nev team were actually just breaking into their hacking careers, and currently taking classes at the hosted space. The team also received one month of free working space from AlleyNYC, as well as two Kindle Fires and a $100 gift card from Twilio.
Ask a Question