Consumer Watchdog Proposes New Mortgage-Borrower Protections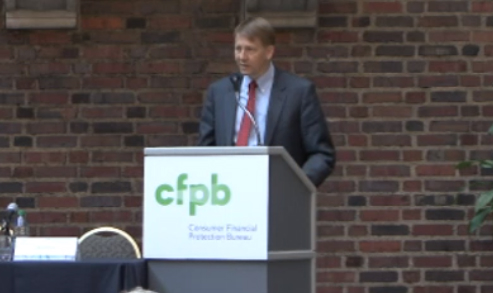 The Consumer Financial Protection Bureau (CFPB) has mortgage servicers in its crosshairs with newly proposed rules that aim to protect home-loan borrowers. The consumer agency introduced two sets of rules that will improve transparency and the quality in mortgage servicing.
"Millions of homeowners are struggling to pay their mortgages, often through no fault of their own," said CFPB director Richard Cordray in a press statement. "These proposed rules would offer consumers basic protections and put the 'service' back into mortgage servicing. The goal is to prevent mortgage servicers from giving their customers unwelcome surprises and runarounds."
The rules are open for public comment until October and they're expected to be finalized in January 2013.
Under the proposed rules, mortgage servicers are required to provide detailed monthly statements and early warnings of fees and interest-rate adjustments. Servicers must make "good faith efforts" to inform delinquent borrowers about foreclosure and to assist them in avoiding it.
Also, when servicers purchase property insurance for borrowers because of a lapse in coverage, servicers must give advance notice. These "force-placed" insurance plans tend to charge higher premiums.
In recent years, the mortgage servicing industry came under fire for poor record-keeping practices that eventually posed harm to borrowers. Servicers must maintain accurate and easily accessible information on borrowers to minimize the chance of errors when such data is needed. If a consumer alerts the servicers of errors, a thorough investigation must be conducted and a resolution must be provided in a timely manner.
Finally, delinquent borrowers must have reliable and direct access to staff members who are responsible to help them.
The proposal represents just a sliver of the CFPB's agenda in revamping in the financial industry. The consumer watchdog made a point in July, when Capital One was charged with a $210 million fine for deceptive credit-card marketing practices.
During the financial crisis, the unfair and predatory practices of the mortgage-servicing industry left many homeowners powerless, frustrated, and, in many cases, homeless. The CFPB is on a mission to create uniform standards to address the issues that caused these consumer problems.
Ask a Question