Highest Rates for the Longest Time: Which Banks Kept Savings Rates High?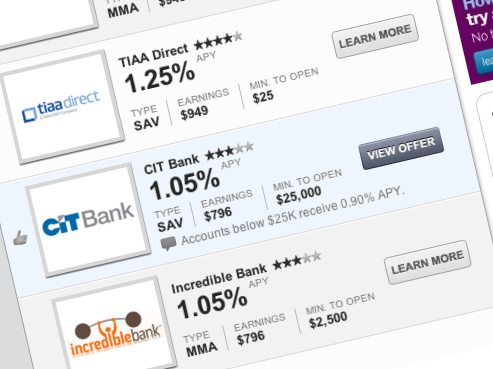 (UPDATE: A MyBankingDirect spokesperson confirms rate history of its money market account.)
There is no doubt that savings rates are extremely depressed because of the Federal Reserve's monetary policy, which aims to use low interest rates to spur economic growth. Despite the low returns, saving is still imperative, but finding a bank that maintains competitives rates is difficult.
The national average for savings rates fell more than 30 percent, from 0.49% APY to 0.34% APY, since the beginning of 2011, according to bank data tracked by MyBankTracker.
Some of the biggest names in online banking, including ING Direct, Ally Bank and American Express Bank, were consistent with their attractive rates, until the the central bank drove rates down. Also, new online banks have jumped into the picture.
Picking the top savings rates is usually the go-to strategy for savers, but some banks have made drastic rate cuts. Savers who are constantly in search of the top savings rates wind up having to switch banks constantly. It becomes a major inconvenience — to the point where it may be wiser and less tedious to find a bank that can keep rates competitive rather than jumping from bank to bank for the best rates.
Currently, most savings accounts struggle to keep interest rates at 1.00% APY. Here are the banks that offer savings or money market accounts above this key level, and how long they've stayed there:
Incredible Bank
Incredible Bank introduced its money market account in May 2011 with a 1.15% APY on balances of $100,000 and under. The rate has fluctuated, but didn't dip below the 1.00% APY until July 2012. It has returned to 1.05% APY, but this rate applies to balances up to $250,000.
Incredible Bank is the Internet division of River Valley Bank.
UFB Direct
UFB Direct's money market account launched in June at 1.15% APY and the online bank has already boosted the rate to 1.30% APY. The account is just two-months old and the rate may change at any time but a UFB Direct spokesperson said that the bank plans to keep the rate steady for some time.
The online bank also has a savings account which held a 1.30% APY from the time the bank launched in August 2011 to January 2012 (roughly seven months). It's been at 0.80% APY since.
UFB Direct is an online banking unit of BofI Federal Bank, formerly named Bank of Internet USA, one of the oldest online banks in the country.
CIT Bank
CIT Bank offers a savings account that has tiered rates depending on the account balance. On balances of $25,000 and up, depositors earn 1.05% APY (0.90% APY on balances below $25,000). This account launched in late March 2012 but the 1.05% APY was available only for the last two months.
CIT Bank launched in October 2011 and initially offered certificates of deposit before unveiling its savings account.
Barclays Bank
The young online bank from Barclays is currently touting a savings account with a 1.00% APY with no tiered rates or other miscellaneous criteria to earn this rate. The rate has stayed the same since the online bank launched in March 2012.
TIAA Direct
TIAA Direct has been in the spotlight this year for offering a savings account and money market account with a 1.25% APY. The online bank of fund giant TIAA-CREF was quietly introduced in February 2012. Currently, the bank is not accepting any new customers as it just ended its pilot phase.
Existing customers are still earning 1.25% APY but it is unclear when TIAA Direct will start accepting new customers.
MyBankingDirect
MyBankingDirect's money market account currently pays 1.05% APY on balances of $5,000 and more. When the account was first introduced in 2005, it carried a 3.75% APY. According to a MyBankingDirect spokesperson, the rate has not fallen below 1% APY in more that two years.
MyBankingDirect is an online banking division of New York Community Bank.
The rate bait
It's not surprising that some of the top savings rates are found at new online banks, which are known for offering extraordinary rates to attract new customers and deposits. Also, because they lack the costs of maintaining a physical presence, online banks can continue to support outstanding rates.
But, as online banks like American Express Bank and Discover Bank have done, savings rates are likely to drop as the banks establish a footing in the market.
Finding a bank that has a track record of maintaining good rates could lead to fewer worries that your bank will slash rates and reduce your savings potential.
Ask a Question