SunTrust Debuts Mobile Check Deposit
SunTrust Bank unveiled its mobile check deposit feature for smartphones this week. Customers can now deposit a check through an iPhone or Android device without trekking to a SunTrust branch or ATM.
The feature has been at the top of the SunTrust customers' "most wanted" list, the bank said earlier this year. SunTrust aimed to release mobile deposit in the third quarter of this year.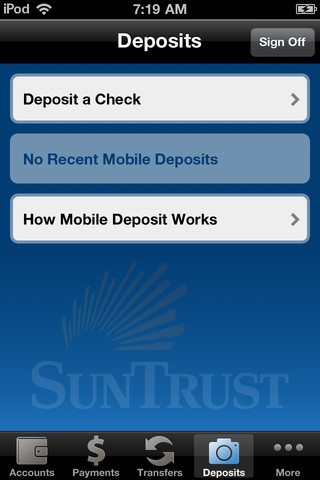 After downloading the latest update to SunTrust's mobile banking applications, customers will find a new tab to access the mobile deposit feature. Customers have to take photos of the front and back sides of an endorsed check to make the deposit.
According to a SunTrust customer representative, customers with accounts for less than six months are subject to a $500 maximum per deposit and a $1,500 limit in total deposits per month. For customers with accounts for six months or more, the limits increase to $1,000 and $3,000, respectively.
Accounts that have three or more returned items in the past 90 days are ineligible for mobile deposit. The cut-off time to have mobile deposits available during the next business day is 9 p.m. Eastern time (8 p.m. Central time).
Because of the demand for the feature, it's no surprise that it was well-received by customers.
"Mobile check deposit is awesome!! That feature alone makes this app a must-have," said reviewer " R4M0N" in the Google Play store. "A little late, but finally able to deposit checks via the app! Thanks!" wrote "Dolfan3033" in the Apple App Store.
USAA Bank was the first bank to pioneer mobile check deposits in 2009. Since then, consumers have called for this feature from their banks — many have switched banks for mobile deposit. SunTrust joins a handful of big banks that currently offer mobile deposits.
SunTrust Bank is the ninth-largest retail U.S. bank by deposits.
Ask a Question