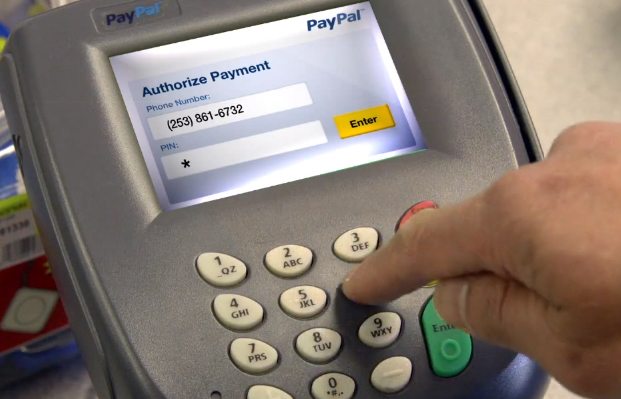 PayPal has joined forces with Discover to expand its in-store payments strategy. Wherever Discover cards are accepted, PayPal customers will be able to pay for purchases without a card or smartphone.
Starting next year, PayPal will integrate its in-store payments system with merchants that are currently partnered with Discover. The program allows PayPal customers, who set up in-store checkout on their accounts, to enter their mobile number and PIN to pay for a purchase. They can select the preferred credit card and bank account that will be charged for the purchases.
It is an extension of PayPal's current collaboration with 16 national retailers, including Home Depot, Abercrombie & Fitch and Barnes and Noble, where this method of payment is already available. PayPal first piloted its in-store payment method in select Home Depot locations earlier this year.
With the Discover partnership, the reach of PayPal's in-store payments initiative will grow from thousands of locations to millions of locations by the middle of 2013.
"Though we're still a few months out, we can't wait for consumers to be able to take advantage of the benefits of PayPal's digital wallet to bring them the simplicity, security and control they've come to expect of us," said Don Kingsborough, PayPal's vice president of retail and prepaid products, in the company blog.
The in-store payments strategy is just one way in which PayPal seeks to introduce the next age in consumer payments. Earlier this week, PayPal was reportedly experimenting with another way to pay at point-of-sale locations. At some McDonald's locations in France, customers can order food with a McDonald's mobile application, and then pay with PayPal.
PayPal's approach to next-generation payments is different from that of other technology giants. For instance, Google's mobile wallet, which recently partnered with Discover, and the upcoming Isis Mobile Wallet use near field communications (NFC) to allow users to pay for purchases by waving or tapping their NFC-enabled smartphones at a special payment terminal.
PayPal's payment solutions, which do not require consumers and merchants to have the latest hardware, are designed for quicker adoption.
Ask a Question