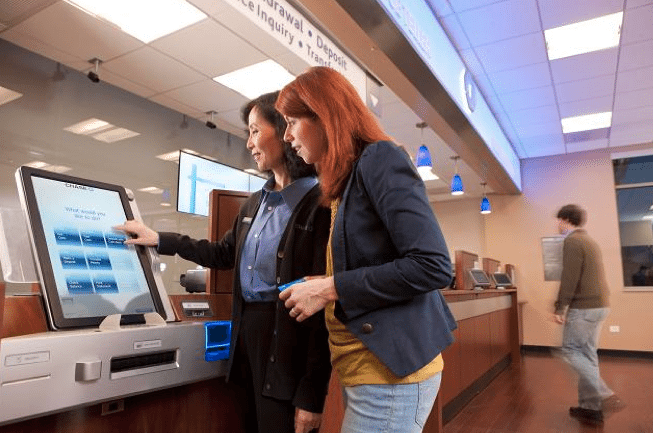 The philosophies on branch banking vary from bank to bank. Some online banks are inflexible on their branchless principles. Some, such as ING Direct and State Farm, opt for money-focused coffee shops. Traditional brick-and-mortar banks see branches as points of convenience and sales, but they can be expensive. Bank of America® has recently closed hundreds of branches to reduce expenses. Chase, on the other hand, is heading in the opposite direction, with a technology-driven approach.
With hundreds of new branches slated to be built throughout the country, Chase is taking the opportunity to test new banking technology that could improve the branch-banking experience. These innovations are currently being piloted in newly-built locations, said a Chase spokesperson.
Self-service teller kiosks
Self-service teller kiosks are large, user-friendly touchscreens that are capable of handling more than 90 percent of the transactions that customers would typically request from a bank teller. They occupy a station similar to the usual teller booths and are designed boost efficiency for the staff and customers.
In additional to all the typical ATM functions, the kiosks can cash checks and dispense cash in multiple denominations. By comparison, at regular ATMs, customers must deposit the checks and wait for them to clear (a small portion of the deposited amount is available immediately after the deposit). And, ATMs only provide cash in $20 bills.
Paperless teller
At teller windows, there are touchscreens that act as paperless interfaces for customers to interact with tellers. Customers don't have to fill paper slips to complete certain transactions and the devices offer a platform to verify customers' identities. Chase aims to use these touchscreens to reduce paper waste and reduce the chance of errors.
Instant-issue cards
As many Chase customers may have experienced when they opened their checking accounts, customers have to wait for their debit cards to arrive in the mail. With new machines that can create debit cards on the spot, Chase can empower customers to make card purchases as soon as they leave the branch. It also means that customers who lose their debit cards don't have to wait for replacements to arrive — just head to a Chase branch.
In the future, Chase plans to add functionality to instant-issue card machines to accommodate credit cards.
Teleconferencing
Branches can vary in terms of personnel — some may specialize in certain financial products and services while others are capable of speaking different languages. But, not all of them can serve the needs of every single customer.
Chase addresses this issue by offering video-conferencing with off-site bank specialists who can sell various products and services or serve customers who speak other languages.
Again, these innovations are in their very early stages of testing. There are no concrete plans to take them nationwide, the Chase spokesperson said. But, given their practical enhancements to the banking experience, it would be a surprise if they didn't come to all Chase branches.
Which of these new innovations are most appealing to you, whether or not you are a Chase customer?
Ask a Question