Dwolla Launches Reddit Donate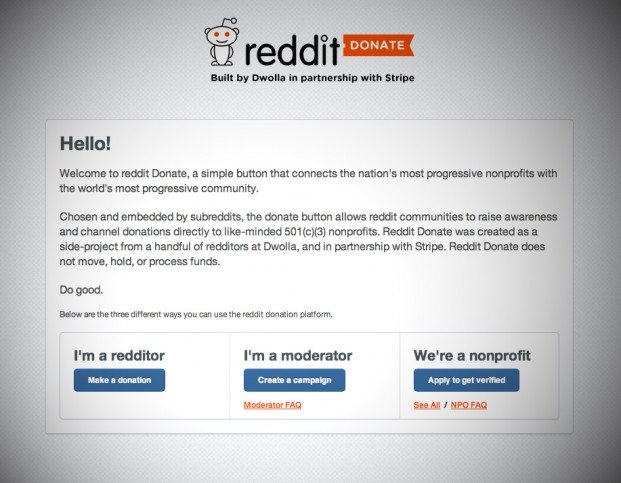 Dwolla has teamed up with reddit to deliver a new way to donate money to the causes that matter most to you: it's called reddit Donate, and it will be showing up on subreddits near you soon. If you use Dwolla, the potentially-disruptive payments service that charges just 25 cents per transaction, every dollar you donate goes a little bit further than it might otherwise.
Slowly but surely, reddit has become the No. 1 source for internet memes and internet activist outrage (as well as other, less respectable, causes). It gets billions of eyes on it a month. So far this year, it has already spearheaded an online movement against SOPA, and put an obscene amount of money into a school bus monitor's vacation fund. Reddit gets the hive-mind buzzing better than anyone else — for better or worse.
And, if the hive-mind is good for anything — frequently, it can be very annoying — it's good for supporting a cause rabidly and spreading the word — that's how Karen the bus monitor ended up rich, after all. And in order to tap into that spirit and make it constructive, Dwolla has launched reddit Donate, in partnership with reddit and Stripe — the latter will allow for users to donate using credit cards.
Dwolla spokesman Jordan Lampe explains on Dwolla's blog that moderators of subreddits — category-specific verticals which interested users both create and subscribe to (there's one for atheism, one for jokes, one for cats, and they get much stranger from there) — can create campaigns for any nonprofit that has partnered with Dwolla, by putting a donate button in their subreddit's sidebar. Right now, the list of charities is as follows: CFY, charity:water, DonorsChoose.org, Fuck Cancer, Girls Who Code, goodsforgood, Hack NY, iMentor, Kiva, Pencils of Promise, She's the First, and United Way.
For example, the ladies-focused subreddit, TwoXChromosomes, just launched a campaign for She's the First, a nonprofit to help young women in the developing world get the education that is frequently deprived of them, and they've raised $120 so far.
In an email, Lampe explained that reddit's general manager, Erik Martin, expressed a "need for a tool that allowed subreddits to safely funnel donations through the reddit platform." The site is good at rallying people around a cause, but this occasionally leads to accusations of fraud. Last year a young woman named Maya Gilsey who tried to raise money for a children's hospital in Upstate New York on reddit, was accused of being a phony. Turns out, she was for real. A system that guarantees redditors' money ends up in the right hands — and isn't hit by interchange fees — will likely be welcome on the site.
Of course, reddit Donate doesn't deal with Dwolla's more pressing concerns right now, like bringing on more users and connecting FiSync, its ACH-killer app, to more banks. Lampe described it as more of a "passion project."
But he added: "Reddit is [the] free market place of the Internet…you never know what will happen."
Ask a Question