How the GoDaddy Outage Affected Banks and Customers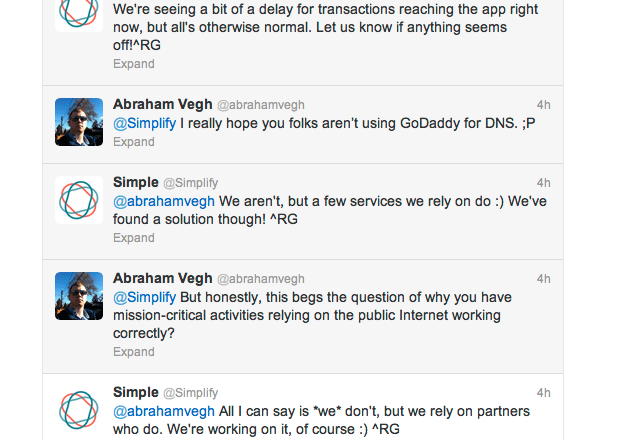 Some bank customers may have experienced inconveniences in their everyday banking activities due to an outage at popular web-hosting company GoDaddy.
No banks reported any downtime of their websites, but third-party companies that provide certain services for banks may have been affected by the GoDaddy outage.
Simple, formerly called BankSimple, said on Twitter that customers may experience delays with transactions showing up on the Simple mobile application, noted Bradley Leimer, vice president of online and mobile strategy at Mechanics Bank. Simple said that, while it doesn't use GoDaddy for critical operations, Simple relies on partners that do.
"I saw some very large-bank links go dark (because of third-party marketing content) and functions like site-search results and applications go down because the underlying code was hosted by third parties that were (apparently) all or partially hosted by GoDaddy," said Leimer in an email. Leimer declined to name affected institutions.
In an age when consumers are increasingly dependent on the Internet for their banking, incidents such as GoDaddy's outage remind consumers that technology is prone to failure.
In June, Amazon Web Services experienced an outage that posed similar inconveniences to consumers. Amazon Web Services is a cloud-computing platform that powers applications for many types of companies, including banks and financial-services firms.
"The negative impact is this: consumer trust is impacted when any web or mobile service goes down," Leimer added. "Sometimes people think the Internet is like air — it's always there and always available. And that's certainly not the case."
Mechanics Bank uses site-monitoring applications to ensure uptime and system health. With cascading layers of web services and applications, financial institutions have checkpoints to identify the problem and re-route services to ensure uptime, Leimer said.
"You don't want to have any system downtime — whether your systems and network is the cause or that from a third party — your bank or credit union is who your customers will (rightfully) blame — because have the ultimate control of the user experience."
The advice is vital for a financial industry that is evolving on the heels of technology.
Ask a Question