PreCash Announces FlipMoney at Finovate: Mobile Money for the Underbanked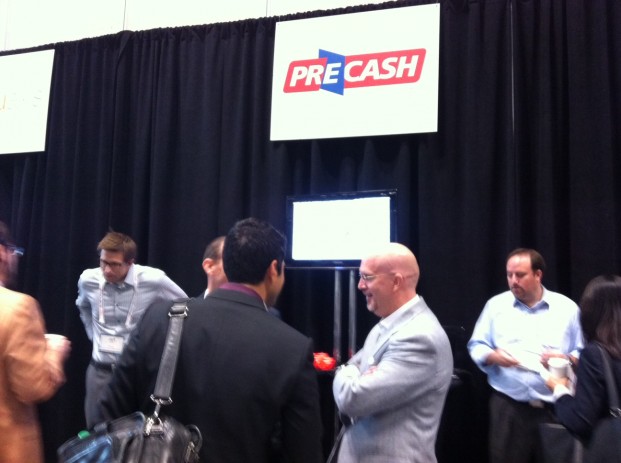 The underbanked, by virtue of having spotty or nonexistent banking relationships, have not benefitted much from the advances in consumer-facing banking technology like online billpay and mobile check deposit. No longer, should PreCash's new Flip technology take off.
Presenting at Finovate Fall 2012 today, CEO Steve Taylor rolled out a new mobile banking-for-the-underbanked product called FlipMoney. It allows users to make expedited, free bill payments from their smartphone, and it allows for instant mobile check deposits. Most of these services take six days to allow for access to cash, according to Taylor, which is simply too long for someone living paycheck-to-paycheck. For $1 and 1 percent off the top, FlipMoney users can photograph a government or payroll check, front and back, and receive the funds in their account instantly. For personal checks this is $1 and 3 percent. For a fixed fee of $3, they can wait for the funds for three to five days.
"The hope is," Taylor told MyBankTracker, "as we get to know this customer, over time, the fee comes down."
This waiting period is the primary reason mobile check deposit hasn't taken off among the underbanked, Taylor explained. Perhaps. Or perhaps because the service is primarily available along with a bank account.
FlipMoney's mobile bill pay system allows for free and expedited payments, which Taylor believes will be a big selling point with the underbanked who would otherwise be paying between $3 and $5 dollars at a Western Union (or similar location) plus another $15 for expediting fees. FlipMoney can link users to over 10,000 billers currently.
The app also allows for P2P payments between fellow FlipMoney users, domestically. Taylor said they hope to have international capabilities by 2013. It also comes with a network-branded prepaid card, which allows for users to access cash and make payments wherever they please.
It is currently available on Android, and will soon be available on iOS. About this, Taylor explained "The lion's share of the underserved space today is with Android."
Ask a Question