Who Would Turn Down Cheap Access to Institutional Investment Ideas?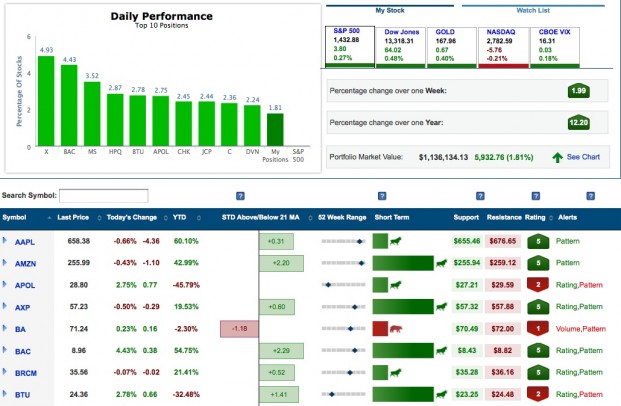 When deciding on how and where to invest your money, without good intelligence and a solid tool for viewing market performance, your chances of success decrease tremendously. Having a visual is essential in understanding the markets and researching companies before investing in them. Charts, graphs and other visual tools that help to educate are the key.
Brokerages, hedge funds and other money managers work constantly to improve their algorithms — and the visual aids that run off of them. They use sophisticated charting programs to ensure that they know exactly what is happening in the markets at all times.
Most of the details and information they access is kept top secret from average investors. Hedge fund managers control hundreds of millions to billions of dollars in assets and make money for their clients based on these hidden and well-funded strategies. That service is essentially what you are paying for should you be wealthy enough to invest your money with one of these advisers. Successful funds continue to amass contributions from large corporations and university endowments, while people with a just few thousand to invest are shut out.
Quantitative funds, or "quants," also rely heavily on these types of technological advances. By measuring patterns using mathematics and physics, analysts could determine algorithms that could, at least in theory, detect which way a publicly traded company's worth would go. A few of these analysts got together to start ChartLabPro. Greg Troccoli gained experience at Prudential Securities and Deutsche Bank-Americas before founding the company with Brett Golden, another investment manager, now President.
Together, along with Louis Lukac, they implemented a sophisticated algorithm that Troccoli used himself in the business for 13 years. The algorithm tracks stock patterns and provides a 1 – 5 rating — with 1 representing a strong sell position and 5 representing a strong buy. The goal of the markers is to indicate to people when a stock has hit a certain position in the market and should therefore be bought or sold. Furthermore, the charts will also tell you when a company is approaching "overbought" — advising you it's time to dump all those shares. The founders hope that this algorithm and the accompanying charts will help the average investor accomplish two things: remove a lot of the guesswork in picking a company to invest in and curb emotion in stock choices. It will provide an edge in managing assets, selecting securities and researching futures.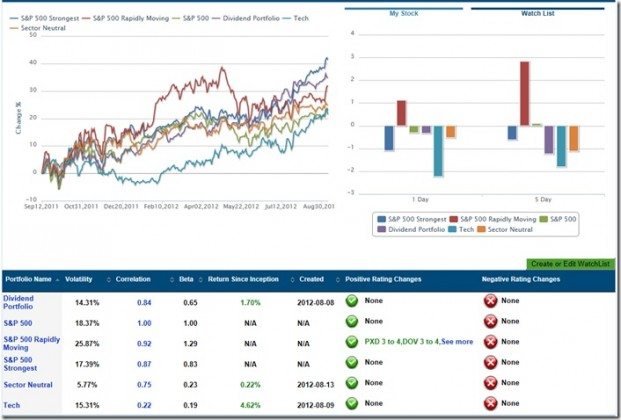 For $9.95 a month you get access to the entire site including discretionary trade insight three times a day, model portfolios, portfolio diagnostics and investment strategies. In time, after enough people sign up for the service, the founders hope to morph it into something that could cater to a larger amount of users. However, they will stay within their asserted mission of creating affordable yet useful technology for anyone to benefit.
Financial advisers as well can benefit from the charting tools that are there for transparency's sake. The sleek design will at the very least assist a knowledgeable investor in understanding how to position himself. Often an adviser could be thrown off by the low price and assume it's just a basic service that specifically caters to the needs of a novice. Comparable services are not usually available for online purchase and, he reasons, should cost thousands of dollars.
This is why a service like Mint.com was able to make such a big splash — and is still one of the biggest hindrances for ChartLabPro. When you provide a service that relies on transparency and provide your users with easily consumed content, it is hard to distinguish yourself from the pack merely by saying "we will provide transparency." It is not a new claim; it's something that everyone in the industry strives for. However, ChartLabPro gets past what the founders claim is the greatest problem in investing: until now there hasn't been cheap access to a great algorithm and charting program.
Ask a Question