BillGuard Puts Card-Fraud Detection in Apple Passbook App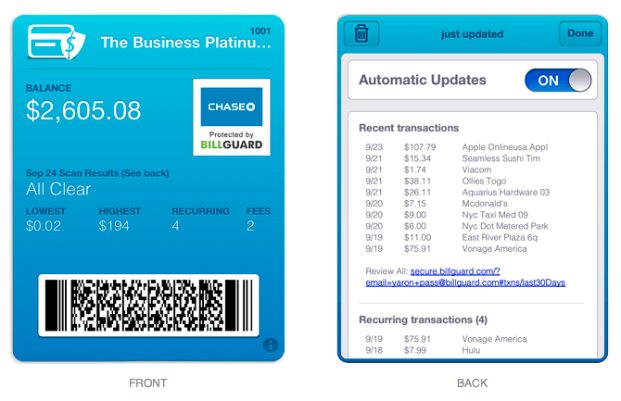 The new Passbook mobile application from Apple may not offer a significant contribution to the latest trend in mobile-payments. But, the app provides another channel to help consumers manage their financial accounts — as BillGuard has shown with integration into Passbook.
BillGuard is a free fraud-detection service that scans consumers' card accounts for suspicious transactions. When users flag unauthorized transactions, sketchy fees or billing errors, BillGuard alerts other users who have similar transactions in their recent card histories — users are helping users.
With BillGuard on Passbook, users can track account balances and receive real-time alerts on suspicious charges on their card accounts. Passbook, an app that organizes loyalty cards, coupons, tickets and more, became available last week with the launch of Apple's latest mobile operating system.
"As digital wallets bring increased convenience to consumers, BillGuard is looking ahead at the digital marketplace and is positioned to help bring a level of monitoring and protection to payment transactions." said Mary Anne Keegan, chief marketing officer at BillGuard.
To add BillGuard functionality to Passbook, users have to log in online and request a "Pass" that is used to attach a card to the app. Currently, the barcode can be scanned by a friend, who will be invited to join BillGuard. Each successful referral means the user gets to add an additional card for free (BillGuard users can add up to three card for free initially). In the future, the barcode could be used to make mobile payments with supported point-of-sale systems, said Keegan.
BillGuard does not yet offer native mobile apps but plans to do so later this year. Unlike BillGuard's features in Passbook, the mobile apps will allow users to view account transactions, connect with other users regarding transactions and merchants and dispute a questionable charge with a merchant. These three differentiators are already available to BillGuard users through the online interface.
Last week, American Express introduced integration with Passbook to allow customers to check recent card activity.
As more players in the financial industry discover the benefits that could be offered on Passbook, consumers could see more companies — especially providers of personal financial management (PFM) tools — perform similar integrations.
Ask a Question