Chase Launches Mobile App for Windows Phones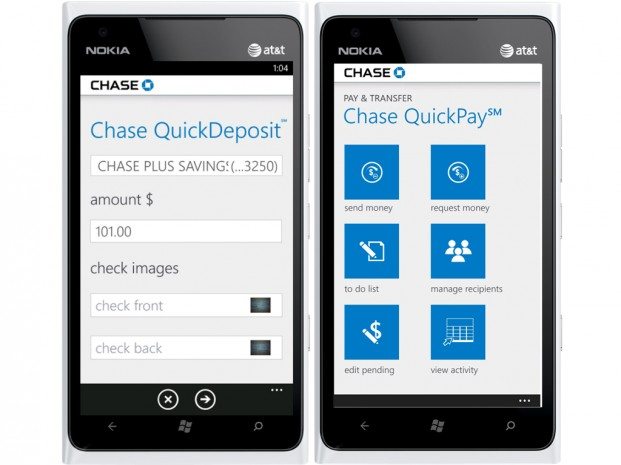 (UPDATE: As of Sunday, Sept. 30, the Chase mobile app for Windows Phones is available for download.)
Chase is expected to release the first version of its native mobile-banking application for Windows Phone devices today. Many customers have been looking forward to the launch of the mobile app since Microsoft previewed it at a Windows Phone Summit in June.
The new Chase mobile app for the Windows Phone platform carries all the features that are already found with its Apple iOS and Google Android counterparts.
With the mobile app, customers can perform activities that are commonly found in most basic banking apps: view account balances and transaction histories, pay bills and Chase credit-card balances, transfer money and location nearby branches and ATMs.
Also, the app allows customers to check their debit card and credit card rewards. Customers can set up alerts to notify them of new deposits, new transfers and account balance levels.
Many Chase customers would also be glad to find that the mobile app can deposit checks and make person-to-person payments.
The app also lets Liquid cardholders to view balances and transaction activity and make deposits. Liquid is a prepaid card that Chase launched in July.
With the new Chase mobile app for Windows Phones, Chase offers native mobile-banking apps for the four most popular mobile platforms in the country — Android, iOS, BlackBerry and Windows Phone. According to analytics firm comScore, the Windows Phone platform has a 3.6% market share of smartphone subscribers in the U.S. (or roughly 4.1 million subscribers).
Chase, the largest bank in the U.S., has more than 15 million banking customers.
The app will be available for download in the Windows Marketplace today.
Ask a Question