Quicken Finally Goes Mobile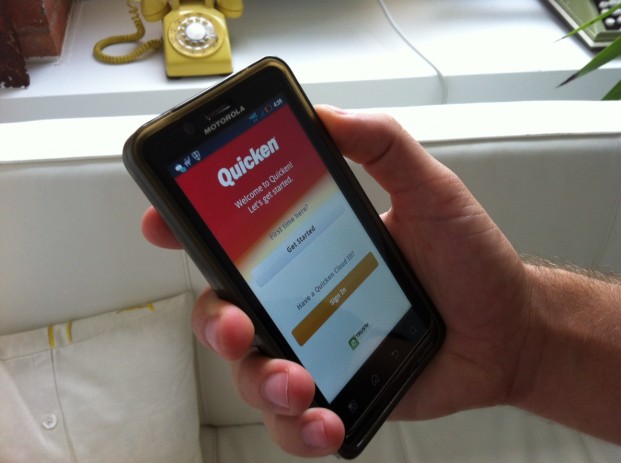 Quicken has finally joined the mobile revolution. The latest version of Intuit's personal-financial management (PFM) software, dubbed Quicken 2013, boasts a veritable suite of apps for iPad, iPhone, iPod Touch, Android phones and tablets and even the Kindle Fire. The program itself has seen few other major adjustments, but they have added conveniences that you may have thought to take for granted.Peter Everett, product manager for Quicken walked me through the updated version, which went on sale Oct. 3, and showed me the mobile version, the new "rollover" and view of your annual budget features and how they've updated the loan section.
First and most importantly, the most practical ramification of now having mobile apps is that you have a handheld device to see your budget and how much is in your checking account. Furthermore, it allows you to split single transactions, which brings an extra level of personal financial management to the app.
This can be especially helpful when on line at a superstore like Costco or Walmart both before and after you make your purchase. When considering whether or not you can afford a new TV that may have just gone on sale (from, say, $1,600 to $1,000), your handheld device can inform you at one glance how much money is actually in the account and what your budget looks like for the month. The phone app has notably less information than the tablet, but that was done intentionally. In-depth information can be viewed at home or on the train when you have more time and space with the tablet.
Supposing you have enough money for the TV but you also picked up milk, eggs and a shirt while you were there, you can go back into the app and file the amount of money spent into their respective categories. This is notably similar to Mint's iPad app update, which was announced in May.
On the topic of budgeting categories, Quicken added a useful "rollover" feature that allows you to roll money left over from one month to the respective budget of the next, or else absorb the profits or losses. Alternatively, if coffee, for example, is something you can afford to go over budget on, you can choose to roll over only positive balance, which gives you more money for the next month but never detracts from your next month's budget.
Another important update involves loans. Importing a bank loan with its rate, terms, etc. has become easier and more accurate. Editing the terms of a loan from a financial institution or a private lender has also become simpler.
Quicken is software-based and is only available on Windows . That's quite different from Mint (also owned by Intuit), which is online only and can be accessed anywhere. While Quicken continues to work on developing a Macintosh version, Quicken says its iOS apps sync perfectly to the Windows desktop.
At first glance, Mint's iPad update seems more intuitive and detailed, fueled by research that iPad users were fiddling with their finances more regularly late in the evening. They may not want to go all the way to the computer to see their finances, but they did want to check in quickly, like they do their Facebooks. However, Quicken has to focus on a user base that ranges from small households to those with small businesses and significant rental properties.
All the versions work with the free apps. Quicken's most basic version starts at $39.99 and the most expensive costs $159.99.
Ask a Question