Falling Rates Could Prompt 'Cooler' CDs for You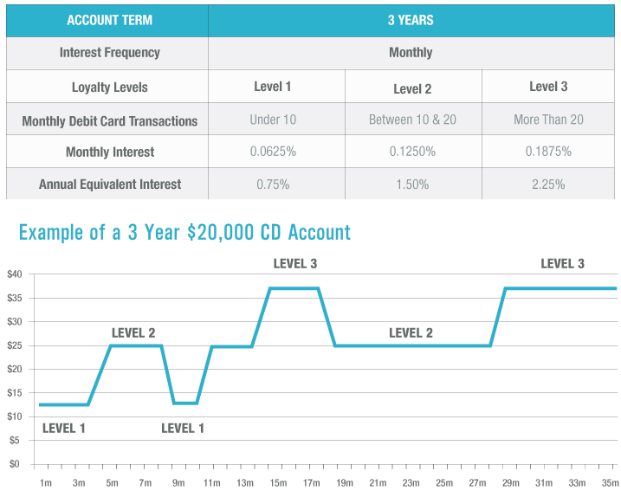 If you haven't heard yet, the interest rates on certificates of deposit (CDs) have crashed to extremely low levels, and they're most likely going to fall some more. Some conservative savers who've relied on CDs to build their savings might have turned to more active or riskier alternatives such as rewards checking accounts or the stock market. For these savers, there's good news on the way. New, innovative types of CDs are just around the corner — offering greater potential for a high return with the same amount of risk.
In the future, consumers could see CD ladders offered from their banks. We're not talking about the chore of learning what a CD ladder is, and then going on to build one on your own and manually reinvesting funds. We're talking about a dedicated CD ladder that automatically reinvests funds on its own.
That's just one example of the new types of CD products that savers will see.
CHOICE Financial Solutions, a company that offers a platform for customizable deposit and investment products, has a few ideas on how banks can provide "cooler" CDs or CD packages.
The aforementioned CD ladder is one such idea.
"With traditional systems, like those from Ally Bank or Discover Bank, the customers have to manually open a 5-year CD (assuming its a 5-year CD ladder)," said Matthew Lifshotz, director of business development at CHOICE. "What we've try to do it is automate it for the customer as much as possible — making it as easy as possible to open and maintain a CD ladder with minimal effort."
This month, Ally Bank released an online CD-ladder tool that shows how customers can establish their own CD ladder. However, they have to open up each individual CD account on their own and they have to remember to reinvest their funds in the correct CD after the initial group of CDs reach maturity.
The CHOICE platform can eliminate this hassle and make it a one-stop solution.
(Banking) friends with benefits
Another innovative type of CD could be one where the interest rate changes with your relationship with your bank.
"If you have two accounts at the beginning of a relationship and you sign up for a mortgage or a credit card, you aren't necessarily being rewarded for that," Lifshotz said. "Shouldn't you achieve a higher level of interest on your savings or time deposit account? We believe you should be rewarded based your relationship level with the bank."
Relationship banking has become a trend after banks witnessed the type of customer exodus that can occur during times of customer discontent — as seen with last year's Bank Transfer Day. Banks are looking to making customers more "sticky" by pushing them to open more accounts. With more accounts at one place, customers are less likely to leave.
Big banks such as Wells Fargo and Citibank now offer account packages so that customers can build a deeper relationship through multiple accounts. Many accounts also have fee waiver requirements that include combined balances from multiple accounts. For example, you may avoid a $15 monthly fee if the balance on a checking account, savings account and a credit card total $20,000 or more.
A bank, through the CHOICE platform, may offer a relationship CD with a rate that fluctuates not only based on the number of accounts with the bank, but also with the amount of activity in those accounts. Some of the criteria could include debit card usage, direct deposits, bill payments and more. More of this activity means a higher rate for the month.
During a period of low rates, savers could use better interest returns. Last month, the Federal Reserve said that interest rates will remain exceptionally low until mid-2015.
If banks start offering these types of CDs, savers have a better way to weather the low-rate environment. So, it's good news that banks are open to them.
The CHOICE platform is currently being tested at a couple of major U.S. online banks and a top 10 global bank, according to Lifshotz.
Ask a Question