Android App To Help The Blind Identify Currency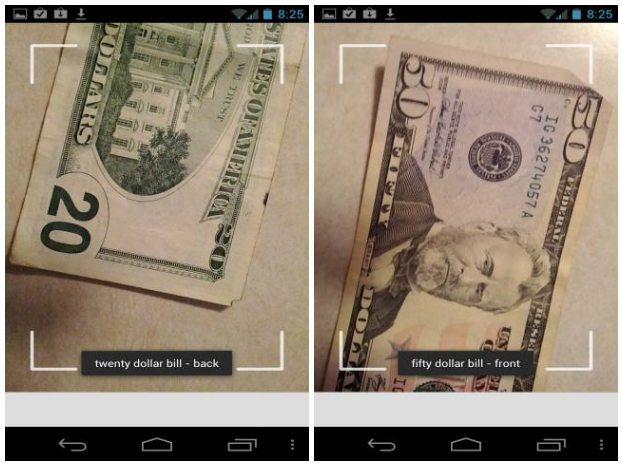 Smartphones continue to make life more convenient for users, and this week, the U.S. Department of Education announced the launch of a free application for Android devices that helps the blind or visually impaired identify U.S. paper currency. The IDEAL Currency Identifier is able to recognize bills dating back to 1993. After downloading and launching the app, simply hold the phone's rear-facing camera over the bill, and it will voice-identify the denomination without the need to press any buttons. The app does not require an Internet connection to work and is compatible with Android 4.0 or higher.
Developed by Apps4Android, Inc. and launched as a joint effort from the U.S. Department of Education and the U.S. Treasury, IDEAL Currency Identifier received commendation from the president of the National Federation of the Blind (NFB), Dr. Marc Maurer. "Access to information, including that of paper currency, is critically important in order for blind people to fully participate in society," he told Mashable. "We appreciate the efforts of the U.S. Department of Treasury's Bureau of Engraving and Printing to make currency more accessible to blind Americans through this application."
According to the NFB, those who are blind or visually impaired traditionally identify bills by folding each denomination a certain way or placing them in different pockets of their wallets. IDEAL Currency Identifier offers an easy way to get around that process with the wave of a phone.
The launch of this app adds to the growing number of apps designed to aid the visually impaired. EyeNote, introduced last year and downloaded 8,000 times so far, is a free app that provides the same service as IDEAL Currency Identifier, but for iPhone, iPad and iPod Touch. LookTel Money Reader is another currency-recognition app for Apple devices that supports other currencies, such as the Euro and Canadian Dollar, as well as a wider range of languages ($9.99 per download). Georgie is a full-service U.K.-based Android app that helps visually impaired users compose texts or find directions (prices vary).
For a demonstration of how IDEAL Currency Identifier works, watch the video below:
Ask a Question