(UPDATE: We've published a new story on the banks that are likely to fail in 2013.)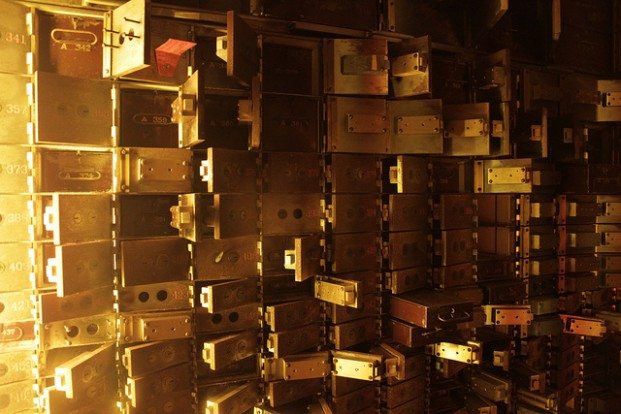 We've mentioned before that one generally reliable way to measure a bank's health is the Texas Ratio, a formula that measures a bank's non-performing assets against its equity. The higher the percentage (higher than 100% is considered bad), the more likely it is to fail. In this updated list, we take a look at the five banks with the worst Texas Ratio scores. Three of them have rolled over from our previous list, two are newcomers, and we also check up on how the other two banks that were listed last time are doing now. Read on, and clutch your pearls (or debit cards) if you must.
Which banks are up next?
As a caveat, the Texas Ratio doesn't ensure bank failure, though it's usually a good indication that the bank needs to take drastic measures or risk FDIC action. Fortunately, the FDIC insures deposits up to $250,000 in the event of a failure, though you'd still want to think twice before opening an account at any of the following institutions.
1. Guaranty Bank (Milwaukee, Wis.): With an unbelievable Texas Ratio of 1275%, we wonder how this bank is still in operation. It's safe to guess that this bank is already in talks with the FDIC regarding its immediate future.
2. Douglas County Bank (Douglasville, Ga.): Since its No. 1 position in our previous list, Douglas County Bank has shown a 4% improvement and now has a slightly less precarious 662% score. Nine of the 45 banks that have failed this year were Georgia banks, setting a dangerous precedent for other institutions in the region.
3. Community Bank of the Ozarks (Sunrise Beach, Mo.): This bank's score has gotten worse since it placed No. 2 last time, from 655 to 657%. Though it's a small increase, this Missouri-based bank remains on the chopping block. UPDATE: Community Bank of the Ozarks was closed by the FDIC on Dec. 14, 2012 — Bank of Sullivan assumed the bank's deposits and acquired its assets.
4. Eastern Savings Bank, FSB (Hunt Valley, Md.): Eastern Savings Bank has seen a dramatic increase in its Texas Ratio score, from 572 to 610%. If the trend continues, the only way this Maryland bank is going to graduate from this list is when it closes for good.
5. Westside Community Bank (University Place, Wash.): The FDIC has already issued a corrective action directive for Westside Community Bank to recapitalize, so it remains to be seen whether the bank can pull it off.
Although the Texas Ratio is a widely accepted way to diagnose a bank's health, it's certainly not the only measure, as plenty of other U.S. banks have closed without making it on our list. Still, it would be wise not to keep more than $250,000 in any of the banks listed above, and keep an eye out for further updates to our death tally.
Survivors From Last Round
The bottom two entries in our previous list have managed to improve their Texas Ratio scores, though that doesn't mean either Georgia bank is completely out of the woods yet. Gwinnett Community Bank, based in Duluth, has deflated its score from 508 to 410%, while Peoples Bank & Trust, based in Buford, has gone from 439 to 391%.
Don't see your bank here?
Many banks that didn't make this list are in the danger zone. Check out your bank's MyBankTracker Report Card here, where you can learn about its fiscal health, customer reviews, fees and locations all in one spot.
Click here for the full list of bank failures in 2012.