Investing Tools That Do More Than Track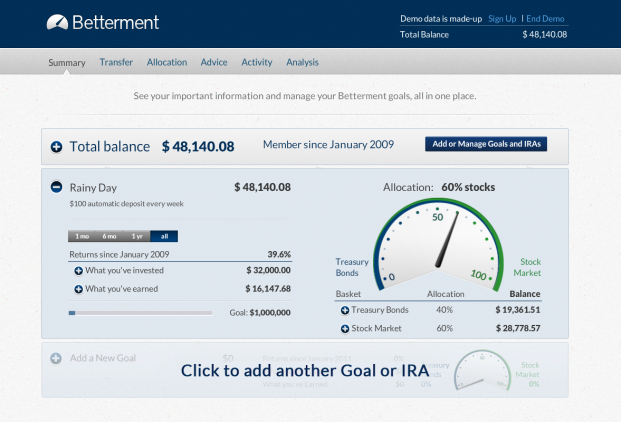 Companies crowding into the burgeoning social-investing space are beginning to differentiate themselves, thus defining their different roles. After reviewing many of the major companies that offer services that seem to fit in the space, the range continues to widen with each company claiming its niche. It promises to be a long battle — with many entrants.
The competition between these investing tools has yielded two primary focal points: providing education/advice and investing your money. Most companies struggle to provide a healthy balance of some of each. But in this relatively new arena, it remains to be seen which company the public will ultimately trust with its private investments, and whether there is enough room for all the companies involved.
Betterment, a personal investment account that does the work for you, is poised for growth on either side of the coin, with a great tool for beginners to understand the amount of risk they want to take as well as what this risk entails. In its current state, Betterment allows you to actually deposit and invest money, transferred seamlessly straight from your bank account, and expect predicted returns to be up to 95 percent accurate.
However while they have a well-designed site, a useful iPhone app and relatively low fees for their service, in its current form it will not teach you a whole lot about how to actually invest your money on your own and the types of stocks to pursue. That role is more aptly filled by companies that provide opportunities for more hands-on learning as you invest. This includes Covestor (trading stocks) and Currensee (trading forex), and even Roboinvest (trading anything through E*Trade), which lead the competition in the mirroring function invented and made popular (by them) only recently. Consumers can use the money in their brokerage account to match the actual real-money trades of professional investors. In this way you learn about an investing professional's strategy through the investments he really makes by copying them with your own money.
Charts and traders
While Currensee and Covestor provide detailed charts, bios and approaches so you can adequately choose a leader to follow, Roboinvest simplifies the process, allowing you to follow top traders and copy (or not) their trades with a one-click copy feature. Roboinvest will not perform trades for you like the other two; rather it allows you to follow investors and copy their trades according to your discretion — a bit more advanced in some ways because you decide which trades to copy. Currensee and Covestor have complex algorithms to detect discrepancies like pip slippage and drift, while Roboinvest posts trades in under one second so you can mirror the trades instantly. Two different approaches to reach a similar endpoint.
On the other end of the spectrum is SigFig, a free, purely educational and read-only tool with no ties to your actual money. Plug in your brokerages, financial advisers or whatever it is you use to invest and SigFig will find hidden fees and other ways to save; for example, a different brokerage. It does not store your data and provides you with the safest unbiased advice on your investments.
Some of these companies seem to compete with one another directly, while others are trying their best to carve out a special place for themselves. Either way, the explosion of these and other companies almost too numerous to mention will decide the future of the entire industry.
(Disclosure: Several weeks after the publication of this article, the parent company of MyBankTracker took a minority stake in Roboinvest.)
Ask a Question