Price Comparison Apps for the Holiday Shopping Season
When it comes to holiday shopping, everyone wants the best prices and deals on the gifts they buy. Many retailers are jumping on the mobile-deals bandwagon, hoping to encourage shoppers to pick their store over the competition, whether those shoppers are at work, fighting the lines at the mall, or hanging out at home. In addition to offering shopper's discounts and deals they can redeem from their phones – there are a number of price comparison apps that give shoppers an easy way to check the price of an item they want to buy at various retailers in order to find the best deal. Nielson reports that 38% of smartphone owners use their phones to compare prices of items while in a store, making it the most common use of smartphones for shoppers.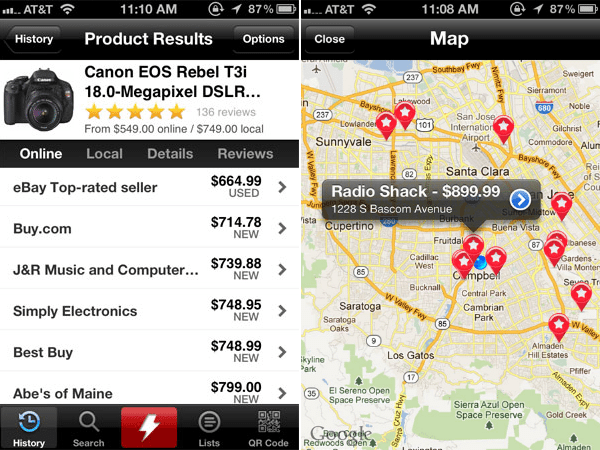 Using Price Comparison Apps
If you are trying to keep to a shopping budget this holiday season, a price comparison app will help you locate the best prices on the items you want to buy. You will want to be careful of apps that also provide you with daily deals, discount offers, and location-based specials, however. While they can be useful for helping you save money on items you were planning to buy anyway, they can also encourage spontaneous buys – causing you to spend money on things you really didn't need or intend to buy.
When your price comparison app finds a low price on an item through an online retailer, you will also want to factor in the shipping cost. During the holidays, many retailers offer a free shipping special – which means you can literally walk through your local Walmart, scan everything you plan to buy – and avoid the lines at the register by having the item shipped for free from the lowest priced online retailer.
Here is several popular price comparison apps that can help you save money and time this holiday season:
ShopSavvy: Scan Barcodes to Find the Best Price
With the ShopSavvy app, Android, Windows Phone and iPhone users can scan the barcode of an item they want to purchase while shopping. The free app will figure out which retailer offers the lowest price on the item, from both online and local retailers. Once you decide where to buy the item, if the lowest price is not available at the store you're actually in – you can tap the buy button, pay directly from your phone, and have the item delivered to your door.
Decide.com: Buy Now or Wait
Have you ever bought electronics only to find they were outdated by the time you got home? With Decide.com, you can get advice whether you should buy the item now, wait for the upcoming new release of the item, or wait for a lower price. If you're sure you want to buy something right now, the free app will find the best price on the item locally or online. Decide.com is available for iPhone, iPad and Android.
Google Shopper: Price Checking and Daily Deals
Download the Google Shopper app to your iPhone or Android phone and you can scan barcodes to find the best prices online or in a local retailer, or get more information about the item – including customer reviews. The app connects with other Google applications, so if you find the best price on an item at a local retailer, you can quickly look up directions to get there. Additionally, if you need encouragement for buying more than you planned – the Google Shopper app also provides a daily deal to people in over 30 cities, and a list of nearby offers from businesses submitting their deals through Google Places.
Redlaser: Buy From Your Phone, Pick Up at the Store
Scan a barcode, search by taking a photo of a product, or by speaking the name of the product into the Redlaser app, and compare prices of thousands of local and online retailers. If you find the item you want at the price you want to pay at a local store, you can buy it directly from your phone from a partner retailer – and the item will be ready for you to pick up by the time you get there. An additional feature of this price comparison app is the ability to help shoppers identify food allergens – scan the label of a food product to find out whether you can eat it or not! Redlaser is available for iPhone, Windows Phone and Android.
Ask a Question