Ally Bank to Release Mobile Deposit This Month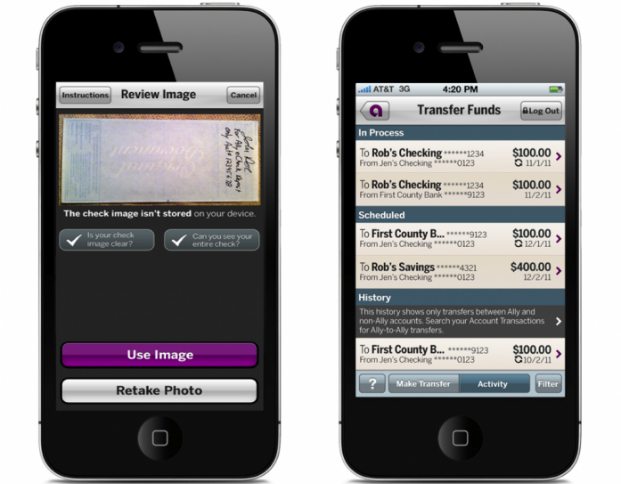 Ally Bank says that new updates to its mobile-banking applications will be released later this month. One of the updates will be mobile check deposit, a feature that has been in high demand by Ally customers.
"I'm really looking forward to this," one customer commented in Ally's blog. "Checks were the last inconvenience of having an online bank … not anymore!"
With the updated version of Ally's mobile app, customers can use their smartphones to deposit a check by taking photos of it. Ally already offers scanner-based remote check deposits to its customers.
The current version of the app, released in April, offers basic mobile-banking capabilities such as the ability to check balances, review transaction history and transfer funds between Ally accounts. Ally also launched a separate mobile app that acts as a dedicated locator of ATMs and retailers that offer cash back at the register.
The dollar-amount limits for mobile deposit will be the same as the limits for scanner-based remote deposit. Ally Bank imposes daily and monthly limits on check deposits made remotely — customer can see their limits when they access eCheck Deposit online.
Other features that will be in the new version of the mobile app include bill pay and non-Ally fund transfers. Many mobile apps by other banks only allow fund transfers between accounts at that bank, not external bank accounts.
An Ally spokesperson said that full details of the mobile-banking app update will be announced shortly.
With this new update, Ally Bank boosts its competitiveness against other online banks that already offer mobile check deposit — especially long-time rival ING Direct, which launched the feature earlier this year.
Bank customers have said, time and time again, that they've considered switching banks to get their hands on this must-have feature. Already known for its low fees and stellar savings rates, Ally keeps customers happy and attracts new customers with mobile check deposit.
Ask a Question