Square, Starbucks Make Push for Barcode-based Mobile Wallets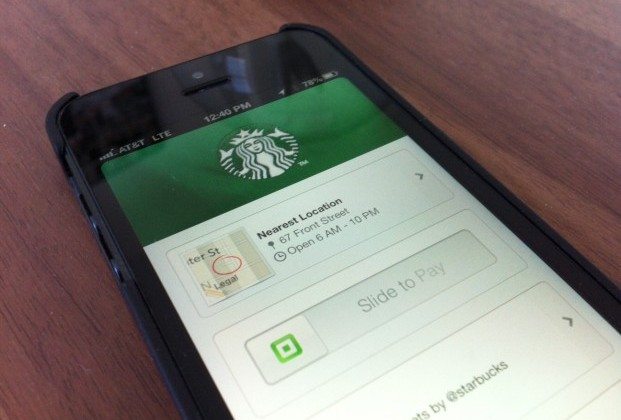 Starbucks, the coffee giant, and Square, the payments innovator, have launched an initiative that could speed the adoption of mobile payments and mobile wallets. Now, Starbucks customers can pay for their purchases without having to reload their loyalty cards.
Thanks to a new integration with the Square Wallet app, Starbucks customers can connect their debit or credit card to the app, which is then used to make a payment in the same manner as the native Starbucks mobile app and the Apple Passbook app — via a digital barcode that is scanned at the register.
Compared to the Starbucks and Passbook apps, the Square Wallet app provides a little bit of added convenience. The Starbucks and Passbook apps are linked to the customer's Starbucks card, which has to be reloaded with funds like a prepaid card. (On Passbook, the customer's barcode is automatically displayed when the iPhone detects a nearby Starbucks store.) But, with the Square wallet, this reloading process is eliminated.
Given that Starbucks already receives mobile payments more than two million times per week across nearly 7,000 stores, removing this small step could boost consumer awareness and acceptance of financial innovation.
When there isn't the demand for such payment capabilities, companies — especially banks and other financial institutions — are less likely to put the money and effort into developing these capabilities to consumers.
Many financial institutions and financial-services companies — such as LevelUp, Bank of America® and Barclaycard US — have introduced or are testing their own mobile-payments and mobile-wallet ventures that are also based on barcoding-scanning and involve syncing with payment cards.
If this Starbucks integration with Square Wallet becomes popular enough, however, it could disrupt the progress made by the other up-and-coming method of mobile payments — near field communications (NFC), or more commonly known as "wave-to-pay" functionality. Google Wallet and Isis Wallet are two of the biggest players on that front.
Which will it be — barcodes or NFC?
Ask a Question