Sick of the Bank? Try a Brokerage Checking Account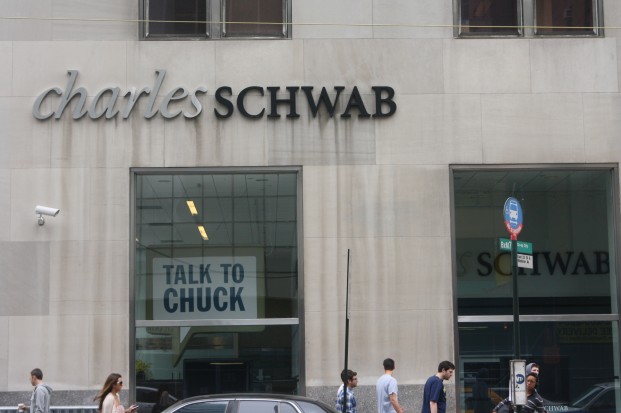 From financial startups to prepaid cards, consumers are discovering new ways to get a checking account without traditional banks. One such option is a checking account from brokerages, which have dipped their feet into the banking space — with much success.
As checking accounts become increasingly expensive, or have difficult-to-avoid monthly fees, some consumers have flocked to their brokerages in search of affordable alternatives.
From June 2011 to June 2012, deposits at Charles Schwab — one of the largest U.S. brokerages — increased nearly 27 percent, from $52.4 billion to $66.3 billion. In that same time period, deposits at all U.S. banks increased 6.5 percent, according to the FDIC.
Like online banks, brokerages do not have a major branch presence. Therefore, brokerage checking accounts tend to be very similar to online-bank checking accounts. Low to no monthly account fees, interest-bearing and free ATM access are some common traits that are found with brokerage checking accounts.
You may be hesitant to ditch the traditional banking style but, with the proliferation of online and mobile banking, the switch won't be such a drastic shift from your financial routine. Bill payments, check deposits and fund transfers are financial errands that can all be completed online or with a mobile banking application. So, you can "bank" with your brokerage.
We took a look at the checking accounts offered by some of the biggest brokerage firms in the country:
| Features | E*Trade (Max-Rate Checking) | Fidelity (Cash Management) | Charles Schwab (High Yield Investor Checking) | Scottrade (Online Banking) |
| --- | --- | --- | --- | --- |
| Monthly fee | $15, can be waived | $0 | $0 | 0 |
| Earns interest | Yes | Yes | Yes | Yes |
| Free debit/ATM card | Yes | Yes | Yes | Yes |
| Check-writing | Yes | Yes | Yes | Yes |
| Online bill pay | Yes | Yes | Yes | Yes |
| ATM access | Free at any ATM | Free at any ATM | Free at any ATM | Free for most ATMs |
| Mobile banking | Yes | Yes | Yes | No (on the way) |
| Remote check deposit | Yes | Yes | Yes | No |
| Requires brokerage account | No | No | Yes | Yes |
As you can see, brokerage checking accounts are feature-packed. Some brokerages may require that you also have a linked trading account, which may carry fees of their own. However, many of these trading accounts also have low to no account maintenance fees.
Since brokerages don't have large brick-and-mortar networks, you may place increased emphasis on ATM access and remote check deposit. At these four brokerages, you are reimbursed for fees incurred at ATMs. With the exception of Scottrade, the brokerages allow customers to deposit checks with their smartphones by taking photos of these checks.
And, don't fret the deposit insurance. The deposits in these brokerage checking accounts are held with FDIC-insured depository institutions under the regular coverage limits.
Of the four brokerages compared, Fidelity's Cash Management account shines. It has no monthly fee, provides unlimited ATM reimbursements, offers remote deposit and requires no linked brokerage account — making it a solid alternative for a checking account. Fidelity keeps these deposits with three partnered banks, which will cover up to $750,000 in deposits across these banks.
Correction: a previous version of the table incorrectly noted that Charles Schwab's checking account had a limit to the number of free ATM transactions.
Ask a Question