Bank of America Delays New Checking Accounts & Fees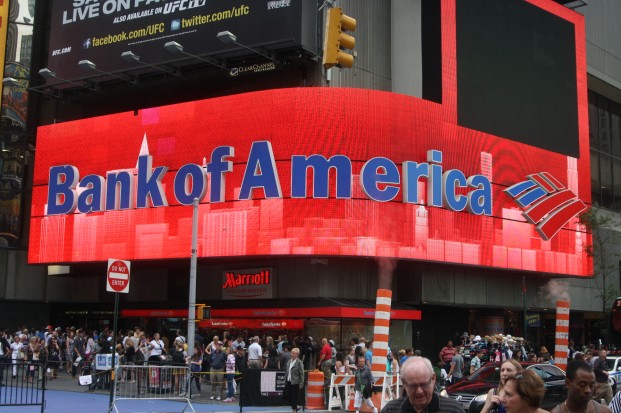 Amid a time of heightened consumer sensitivity to banking fees, Bank of America has decided to postpone the nationwide launch of new checking accounts — possibly avoiding a repeat of the 2011 fiasco that lead to massive consumer unrest.
These new checking accounts, with their own set of fees and features, won't be rolled out until at least late 2013, according to the Wall Street Journal, which cited unnamed sources familiar with the bank's plans.
In early 2011, Bank of America introduced a suite of new checking accounts for customers in Arizona, Georgia and Massachusetts. Originally, the plan was to test these accounts before expanding nationwide in the second half of 2011.
In the pilot states, Bank of America customers could choose from the following checking accounts: Bank of America Essentials, eBanking, Bank of America Enhanced and Premium Checking. The Bank of America Enhanced and Premium Checking accounts have a monthly service fee of $15 and $25, respectively. The pilot continues in those states.
In non-pilot states, Bank of America customers can select from the following checking accounts: eBanking ($8.95 monthly fee), MyAccess Checking ($12 monthly) and Advantage with Tiered Interest Checking ($25 monthly fee). The monthly service fees for these accounts can be waived if certain requirements are met.
The bank appears to be experimenting with the pricing for the Bank of America Essential and eBanking accounts since their monthly fees vary (either $6, $9 or $12) in each of the three pilot states.
With the exception of the Bank of America Essentials account, the monthly fees on pilot checking accounts can be waived.
In September 2011, customers learned of Bank of America's plan to introduce a $5 debit-card fee starting in January 2012. Consumer uproar resulted, which paved the way for the highly-acclaimed consumer movement known as Bank Transfer Day. The founder of the movement, Kristen Christian, was a Bank of America customer who was unhappy with this new fee and began encouraging other bank customers to close their accounts and move their money to credit unions. (There was no official Bank Transfer Day this year.)
The debit-card fee was eventually scrapped and the new checking accounts were expected to roll out nationwide in 2012. Now, the nationwide launch has been pushed back even further — the pilot program is still in place.
It is unclear why Bank of America postponed the nationwide launch of the new checking accounts.
A Bank of America spokesperson did not reply to a request for comment.
Ask a Question