Sneak Peek: Discover Bank's New Online Cashback Checking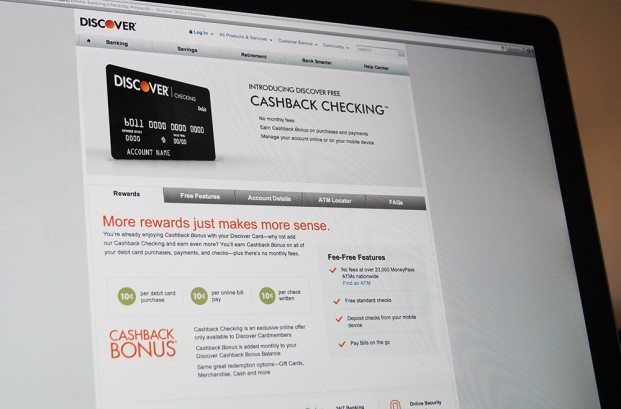 Earlier this year, Discover Bank alluded to a new checking-account offering to round out its suite of deposit accounts, which includes a savings account, a money market account and certificates of deposit (CDs). It appears that the checking account is coming soon, as a peek behind the scenes reveals.
MyBankTracker found details on the account at a web page that Discover is apparently still working on.
That page suggests that Discover Bank's new checking account is different from most checking accounts offered by online banks, such as ING Direct and Ally Bank, which tend to pay out interest on deposits. Instead, customers with the new Discover checking account will be able to earn cash back by making certain transactions — hence the name Cashback Checking.
Cashback Checking customers earn 10 cents per debit-card purchase, online bill payment or written check. The cash back is combined with the cash-back earnings from Discover's credit cards. Cashback Checking is available only to Discover cardmembers — meaning you need to be a Discover credit-card customer to be eligible for this checking account.
The web page says that account carries no monthly fee and no minimum balance requirements. Discover won't charge customers to use any ATM. However, Discover will not refund the surcharges imposed by ATM operators. Through a partnership with the MoneyPass ATM network, customers have surcharge-free ATM access to 23,000 ATMs nationwide.
Other services that appear to be free with the Cashback Checking account include online bill pay, incoming domestic and foreign wire transfers, official bank checks (free rush delivery), check orders and debit-card replacement.
Paper statements and overdraft protection are not currently offered by Discover Bank. Customers can view their statements online and print them if needed. Discover Bank charges a $30 overdraft fee (maximum of one per day).
The page says that customers will be able to deposit check with their mobile devices. Customers can also request free, prepaid envelopes to mail in paper checks for deposit.
Currently, the Discover mobile apps do not have mobile check deposit, but the bank says that the feature is coming soon.
The launch of Cashback Checking and mobile check deposit is unknown. A Discover spokesperson did not reply to a request for comment — so the account's features may still be subject to change.
At the time of this article's publication, the details of the Cashback Checking account were available on a not-yet-readily-accessible page on Discover Bank's website.
Ask a Question