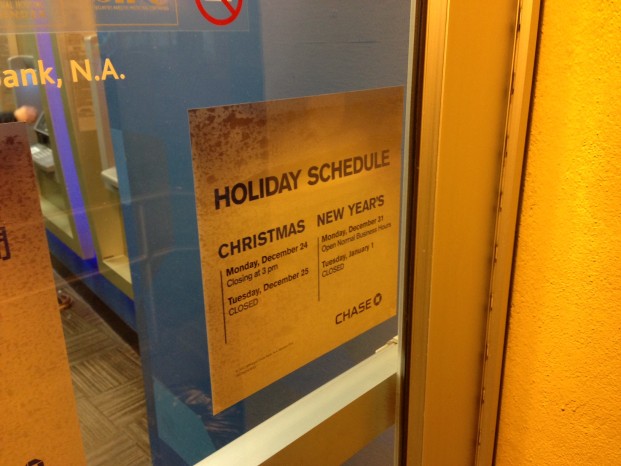 Before we welcome the New Year, you may need to head to the bank to complete certain end-of-the-year financial tasks. If you're one of those last-minute procrastinators, don't be surprised if you find that your bank closed early on Monday.
Just like Christmas, banks are closed on New Year's Day — you probably expected that already.
But, like Christmas Eve, some banks will close early on Monday for New Year's Eve. Capital One, PNC Bank, HSBC and Regions Bank be open for limited hours. PNC's supermarket branches will have different business hours on New Year's Eve and New Year's Day (call your particular supermarket branch for its holiday schedule).
The nation's four largest banks — Chase, Bank of America®, Wells Fargo and Chase — will be open during normal Monday business hours on New Year's Eve.
The stock market will be open for regular hours on New Year's Eve and closed for New Year's Day.
Here is the schedule for New Year's Eve and New Year's Day for the 13 largest U.S. banks:
If you are unsure about the hours of your local bank branch, it is best to call before your visit.
Online banking, mobile banking and ATMs remain easily accessible ways to conduct banking, regardless of whether or not a branch is closed.
Get to the bank early so that you're not worrying about financial chores during the long weekend (if you're lucky enough to get Monday off from work).
Ask a Question