MyBankTracker Makes It Easier For You to Compare Banks
Picking a bank just got easier. MyBankTracker is pleased to launch its newest feature: bank comparison pages with streamlined information for better decision-making.
We've simplified the comparison process by making it as easy as possible to pick and choose banks and then laying them side-by-side for hassle-free comparing. Our new comparison feature allows customers to choose up to five banks across America to compare and contrast based on various features, fees, rates and customer reviews.
We believe that the process of picking a bank should be straightforward, which is reflected in the structure and usability of the Compare page.
Selecting banks to compare is simple. Newly integrated into the upper right hand corner of each bank's individual profile page is easy access to the search tool to begin the process. Just enter in the different banks you're interested in comparing and MyBankTracker will take care of the rest.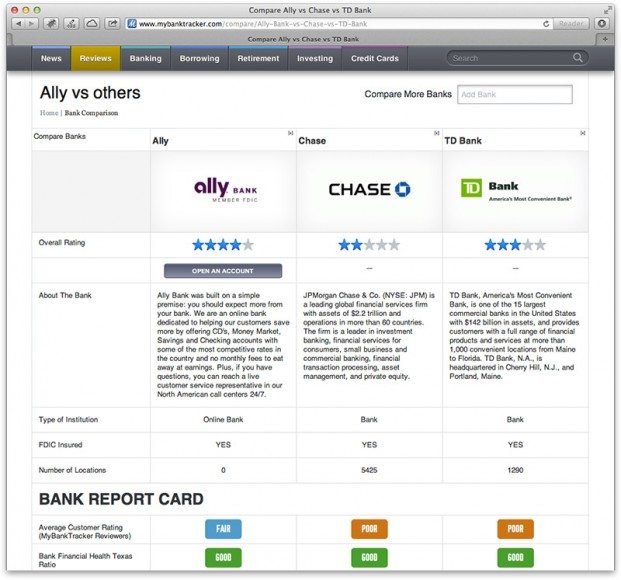 For example, if you wanted to compare Ally Bank with others, start from the Ally Bank profile page. Let's say you wanted to compare it to Chase Bank and TD Bank. Simply enter "Chase" into the search tool, and after that, enter "TD Bank" as well. Voila, you now have three charts of concise information for easy viewing.
The URLs generated by the bank comparisons contain the names of the banks you select, so it's now easier than ever to suggest bank comparisons to friends and family if they ever have to make a banking decision themselves.
In addition, beneath the customer reviews section of each bank profile, you now have the option to compare it with similar banks.
MyBankTracker is continuing its mission of making banking accessible and painless. After providing users with bank report cards, cultivating discussion on customers' firsthand banking experiences, we believe that providing bank comparisons is the natural next step in MyBankTracker's goal of becoming the ultimate personal finance hub of information.
Ask a Question