MyBankTracker Lets You Get Directions to Your Bank Branch
In addition to our already comprehensive hub of bank information, MyBankTracker now makes it even easier for you to locate a bank in your area and get detailed directions on how to get there.
Our new directions feature is easy to access. On every individual bank profile page is a tab for branches. Once you click on the page, you will be given the nearest branch locations in your area. After selecting the particular branch you want to visit through the "View Branch" button, you will be taken to the branch's individual page. From there, once you click on "Get Directions," you can input a starting location to get full directions on how to get to that branch.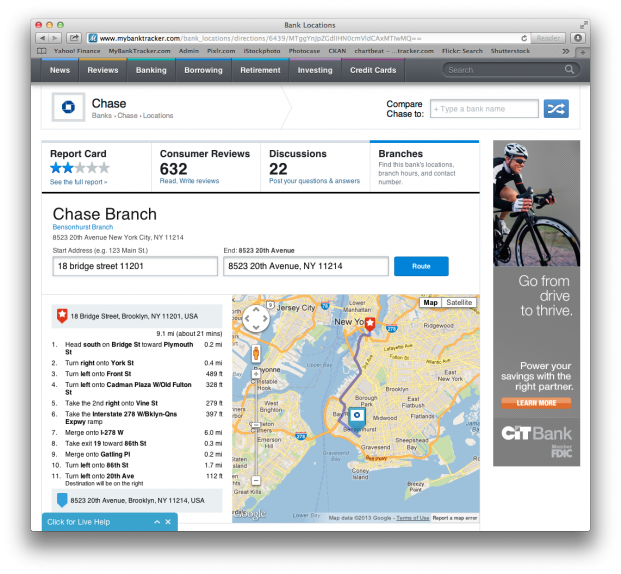 Through the larger map on the branch-specific page, you will also have the option to look at the location in street-view mode. Simply click on "Larger Map" and then drag the yellow figurine from the upper left corner onto the destination on the map.
Don't forget to leave a review of any branch of any bank by clicking on the "Write a Review" button on the branch page.
MyBankTracker's bank pages are consolidations of all the essential information you're looking for. The pages include the bank's financial health, fees and interest rates, among others. On top of that, we house a robust community of customers who provide reviews of firsthand experiences with their banks.
With the ability to look up directions, we're providing an even more complete online bank searching experience.
Be sure to check out the Bank Comparison pages that we rolled out earlier this week.
Ask a Question