When the ATM Ate My Debit Card In Hong Kong
During my first month studying abroad in Hong Kong three years ago, I found myself in a tight spot when my debit card was inadvertently shredded by the ATM, leaving me with just a handful of cash to make it through the next week.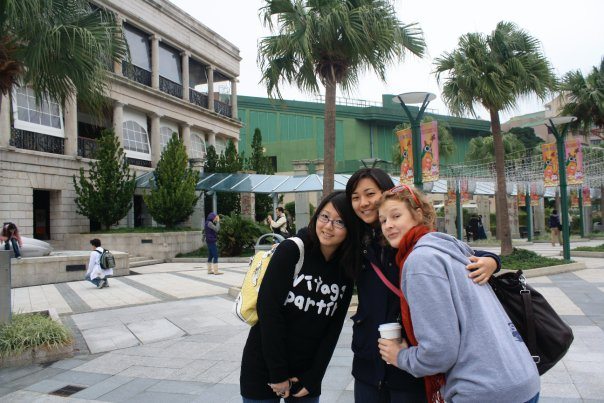 The Setup
My misadventure started in early January 2010, when I hastily opened a Bank of America® checking account just a few days before flying to Asia. BoA is conveniently partnered with China Construction Bank, where I could use my debit card to withdraw cash without incurring any fees. I arrived with my temporary debit card in hand.
Although China Construction Bank branches are relatively commonplace in mainland China, they're a bit harder to find in Hong Kong. The only ATM on the Hong Kong University campus belonged to HSBC, so that's where I went the first time I needed money. I was already feeling lost and overwhelmed in the big city, so I rationalized the additional fees.
The second time I visited that HSBC ATM, it wouldn't return my debit card. Instead, I received an error message: "Your card has been retained. Please take the receipt and inquire within the bank." The teller told me that the ATM withheld my card because it had been reported as lost (???), and I would have to return the next day to retrieve it, as they only empty the machines at night.
Frustrated but not yet panicking, I went back the following day and found out that because my card had been reported as lost, it was bank policy to destroy it. "The card has been canceled," the teller told me apologetically. "There's nothing we can do."
I was dazed. My debit card had been with me the whole time — I mean, I was obviously using it at the time — so I had no idea who had reported it as lost. The bigger problem, though, was that I had no source of money for the week it would take for my permanent debit card to come in the mail. I didn't have any family to turn to in Hong Kong, my credit card was useless as the majority of places I frequented were cash-only, and the only other debit card I had was with a local Chicago bank that wouldn't even work in Asia. I didn't have any checks with me, either.
The Outcome
Eventually, I had to use up the emergency cash I had brought with me, down to the last U.S. dollar bills in my wallet. (This is how I learned that currency exchange places don't take coins. Jerks.) I carefully stretched my funds to last, no small feat when you consider the decadent lifestyle of an exchange student (what classes?). Fortunately, I didn't have to ask my new friends and classmates to borrow money or resort to more drastic measures (I don't know, private English tutoring?). Once my replacement card came in the mail, I made sure to use it only at China Construction Bank ATMs.
Being in a foreign country without enough money is scary. That experience taught me to be more cautious when withdrawing money in foreign countries. Always travel with extra cash, and stick to your plan when tempted to use other ATMs. One possibility in my case is that BoA considered my foreign transactions to be a security infringement somehow, resulting in a canceled card. I thought I had made it clear when opening the account that I was planning to use it abroad, but who knows.
I also ended up opening an HSBC checking account in Hong Kong in case of further mishaps, but it was too much of a hassle to physically move cash between bank accounts; I never actually used it and closed it before I left the country. (This was before banks got all fee-happy — the neglected account was completely free.)
Two years later when I went back to Hong Kong for a five-month internship, I made sure to be more prepared: I opened a U.S. Citibank checking account beforehand so I could take advantage of its numerous branches in Asia. I had learned from my previous mistake and found a more convenient way to access my money abroad.
Ask a Question