Bye ING Direct, Capital One 360 is the Future: A Look at What Changed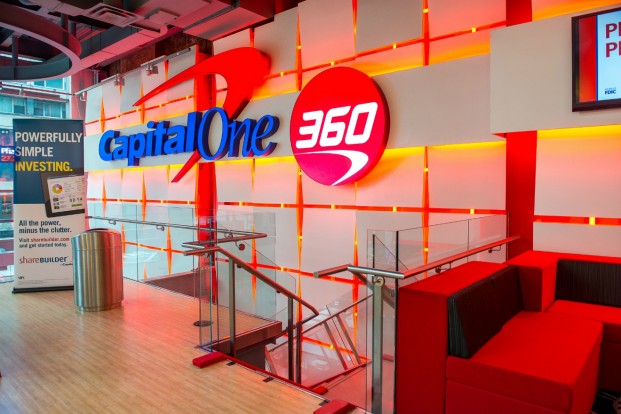 Today, Capital One 360 officially launches as it takes over ING Direct, the online bank that millions of savers have come to rely on to build their emergency funds, save for home down payments, stash away for vacations and more. We took a look at some of the changes that customers may encounter.
Without a doubt, customers will notice that ING Direct's website now redirects to Capital One 360's website. The new branding and color scheme is apparent as the red and blue colors replace the iconic orange color from ING Direct (and the red Capital One 360 ball takes the place of the vibrant orange ball from ING Direct).
However, other than the colors, the website layout is very much the same — customers should have no trouble navigating their online accounts as they did before. The same goes for customers who prefer mobile banking — just update your ING Direct mobile banking applications (no need to download a new app).
As for the former ING Direct cafes, customers will simply see new signage, as expected.
So far, there has been no surprises, customers have received regular updates about these upcoming changes.
Customers that like to stay connected through social media will now see that ING Direct's Facebook page redirects to Capital One 360's new page. And, Twitter users who've been following @INGDirect will now see updates from @CapitalOne360.
A smooth transition
The rather seamless transition from ING Direct to Capital One 360 may offer more consolation to customers who've been skeptical regarding possible changes to their accounts and online banking experience. Many expected (and still do) new fees and a poorer quality of customer service.
Capital One has repeatedly told customers that the experience that they've come to love from ING Direct will stick around.
"We know customers expect a terrific online experience, fee-free checking and savings, and the ability to talk with a real person, seven days a week," said Laura DiLello, a Capital One spokesperson. "All of this is in our pledge and we'll continue to deliver, just with a different name and new colors."
And, if you're wondering where the orange ball has gone to, it is now enjoying retirement. Capital One 360 says, "Thanks to years of savings, the Orange ball is off bouncing around the world."
Ask a Question