MyBankTracker Reimagines Mortgage Lending Experience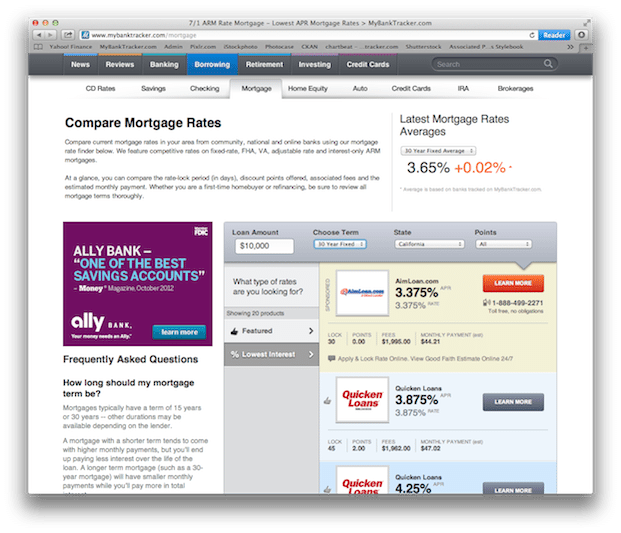 MyBankTracker is happy to announce an update to one of our most popular products, our mortgage rate tables. Our update brings a whole new mortgage lending experience to users, enhancing your ability find and compare the best mortgages available to them.
Housing rates are at a record low, and for people looking to purchase or refinance their homes, now is the perfect time to discover their mortgage options.
MyBankTracker is committed to creating the best possible user experience for all customers and bringing them the best financial products to help them save money. We recognized that there was a demand for a better way to compare options amongst today's mortgage lenders and we are excited to close that gap with our mortgage rate tables.
Our mortgage rate tables have been redesigned to accommodate more information about the loan options available from different mortgage lenders. Customers can enter in a loan amount, choose between multiple terms and filter by state. Whether users are looking to buy a new home or refinance an existing mortgage, we provide options for all different life changes.
And for the first time, MyBankTracker introduces products from mortgage brokers as well, going beyond providing information from banks only. Quicken Loans and AimLoan.com are among the first of our new mortgage partners, and we look forward to expanding customers' options outside of the traditional bank loans.
We take the same ease-of-use in comparing banks to our new mortgage experience as well. Each lender has its own Report Card page, where users can peruse customer reviews, interest rates, and other costs and fees, just like they can with the banks.
As with all the other MyBankTracker products, we will continue to build them so that they work best for our users. In the future we will be adding more loan sources, and customers will be able to make even smarter decisions with their money.
Ask a Question