MBT Talks: What's Your Favorite Credit Card?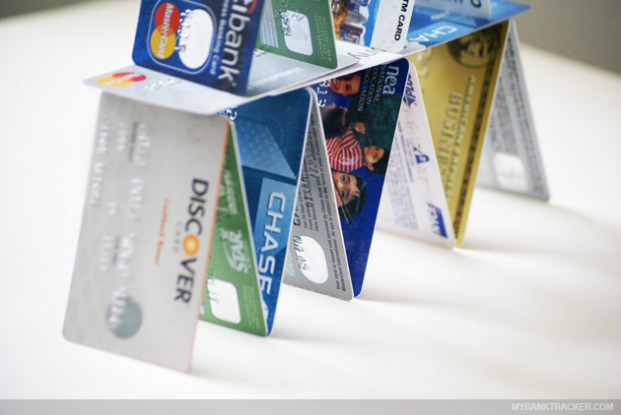 This week, we polled the MBT team to see what their favorite credit cards were. We have diverse teams filled with people at different stages in life — single, dating, married with kids — so we get to see what cards work best for their situations.
Simon: My go-to credit card is my Citi Dividend Platinum Select Visa card. It has a rotating 5% cash back program that often has very appropriate bonus categories, such as electronics for Q4 (Christmas savings!) and fitness for Q1.
Other than the cash back program, I'm a big fan of the Citi feature that lets you generate one-time account numbers for online shopping. I've used these virtual account numbers to make purchases on the PlayStation Network and Steam (both are gaming networks), and both suffered data breaches in 2011. That feature offered greater peace-of-mind in situations like those and I really think that every credit card company should offer a similar service.
Laura: My preferred plastic is Chase Freedom®. The cash back rewards have been satisfactory, not to mention it's linked seamlessly to my Chase checking account.
The human interaction has been good so far as well. Last month, I was overcharged at a bar, so I called the Chase Freedom® customer service, and they processed a credit refund within a few days. It's good to know I can count on them to have my back.
Gaston: I'm not really a credit card user, I only have one for each country, both HSBC Premier MasterCard (Argentina and USA).
In America, they gave me the card at 1 year at 0% interest, they don't seem to care if I'm late for a payment, and whenever I need to speak with them it takes less than a minute to speak with a person.
The only bad thing I can think about is that when I try to make a purchase that's outside my regular spending, they tend to refuse it for my own security, but again, I only use it once every month or so.
Every banking aspect in Argentina sucks, but still, I've never had a real problem with this card. I just don't use it as the interest is above 20%.
Julia: I love my Citi Platinum Select World Mastercard, which is actually the only credit card I have. I opened this joint credit card with my boyfriend over 5 years ago, and each year when they try to raise our interest rate, my boyfriend calls them up and the end result is always a lower rate than we started with.
As of today, we have a 6.9% rate on the card and an $8,000 limit. The rewards aren't that great, so we don't use it for everyday purchases, but it's perfect for high-priced items like furniture, electronics, and occasional traveling.
I've recently started hunting for an everyday credit card, but as soon as I see those 16%+ rates I'm immediately turned off; no doubt because I've been spoiled with my low interest card. I'm sure once I find a personal credit card with rewards that fit my daily lifestyle, I'll be able to move on; but for now, I'm all about my 6.9% rate.
Jason: My card of choice is Amex's Blue Preferred. With two kids, I spend over $1,000 a month in groceries. Even though they recently capped the amount you can claim at 6% to $6,000 a year, I still end up with much more cash back than compared to what I would earn with my old Chase Freedom® card.
Anthony: My favorite card is also my only card: Chase Sapphire Preferred®(Yes, I pay the annual fee).
To me, it's a perfect card for a city dweller. No useless bonus points on things I never use (like gas). Instead it's two times the points on things like take-out food. It's pretty much the closest I can get to a Seamless web loyalty card (when is that going to be a real thing, by the way?). And I probably order enough take-out to earn a free flight about once every 6 months, which is both awesome and depressing at the same time.
Also, it's made of actual metal instead of plastic so the weight is pretty substantial. It makes people think you have more money than you actually do. Downside: impossible to destroy this card if you ever have to. Scissors are no match for this monster.
Check out last week's MBT Talks: How Do You Split Large Dinner Bills?
Ask a Question