PerkStreet Unveils New Savings Account, Mobile Apps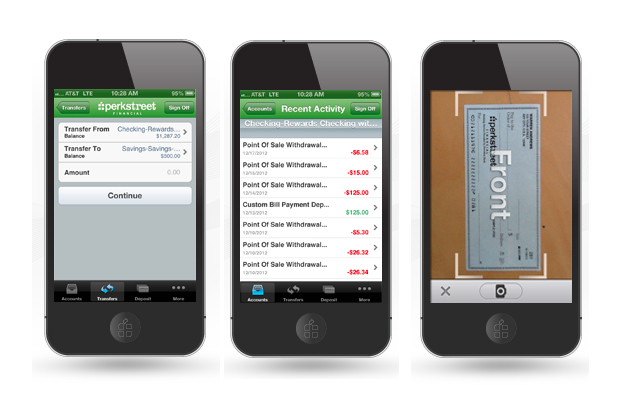 Known for its cash back checking account, PerkStreet Financial is expanding with a new savings account and the first version of it mobile banking applications, among other changes. However, many customers will not experience these changes yet.
Because PerkStreet launched a new technology platform that is not tied to its previous system, its customer base is divided between customers who signed up under the legacy system (the old version) and those who signed up when the new platform that went live today. The transition to the new platform for legacy customer accounts is slated for this summer.
"Because of the time and complexity of converting existing accounts, we made the choice to launch these features as quickly as possible and do a complete conversion over the summer for existing customers," said Jason Henrichs, co-founder and COO of PerkStreet Financial, in an email statement.
The new platform allows PerkStreet checking customers to sign up for a linked savings account. They'll also have access to the mobile apps (awaiting approval for the Apple App Store and Google Play), which allow customers to review account balances, perform fund transfers between PerkStreet accounts and deposit checks by using their smartphone's camera.
Additionally, under the new platform, customers will have free access to more than 23,000 ATMs on the MoneyPass ATM network as opposed to the 40,000 ATMs on the STARsf ATM network. Deposit capabilities through UPS and MoneyGram — still available to legacy customers until the transition — are absent in the new platform.
In a blog post, PerkStreet said the costs and infrequent use of these deposit services, paired with the introduction of mobile check deposit, led to their discontinuation.
There are no other changes to to PerkStreet's offerings.
Current customers to wait a little longer
Since PerkStreet hinted at mobile apps two years ago, existing customers have been eagerly waiting for features such as mobile check deposit. To hear they'll have to wait a few more months may be too much to bear.
"For customers who don't want to wait (which we can appreciate since they've been very patient so far), they will need to apply for a new account," Henrichs added. "We have developed a number of tools to help customers move their account over, including a perks transfer tool, but they will still need to link their existing account to transfer funds and re-enter bill pays or automated transfers."
Unfortunately, customers with new accounts must wait 60 days before they can use mobile deposit. For existing customers, the 60-day wait isn't a big difference compared to the automatic summer transition.
Savings account needs more
While PerkStreet differentiates its checking account from others by offering a cash back debit card program, the new savings account appears less attractive in a highly competitive market.
The savings account, available only to checking customers, has no monthly fee and pays 0.15% APY (as of March 6, 2013).
Compared to savings accounts from big banks, PerkStreet's savings account is a better option without burdensome requirements to avoid monthly fees and nearly nonexistent interest returns.
However, most savings accounts from online banks also carry no monthly fee but pay much more in interest. Ally Bank's online savings account, for instance, offers 0.90% APY.
In the past, PerkStreet has made improvements to its checking account, such as offering large amounts of cash back (up to 25 percent) at certain retailers, so its savings account may get some upgrades in the future.
"We have a number of savings-based innovations in the works, including a PowerSavings account that will offer substantially more cash back and help customers reach their goals faster without going into debt," said Henrichs.
(UPDATE: The story has been updated with comments from Jason Henrichs, co-founder and COO of PerkStreet Financial.)
Ask a Question