My First Visit to a Capital One 360 Cafe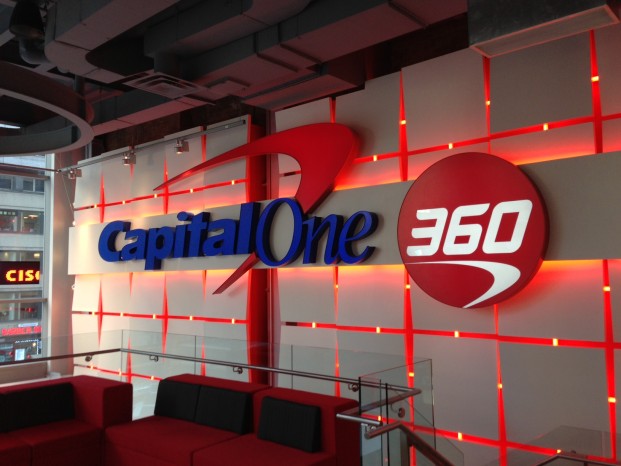 Nestled in the corner of a busy street in middle of Manhattan is the Capital One 360 cafe. With its glass exterior and prominent signage, you'd think it was one of the many banks within the two-block radius, including a Well Fargo branch across the street. However, the only resemblance of a bank is the ATM tucked in the back of the cafe.
I've been a customer of Capital One 360 (formerly ING Direct) for the past five years and knew these bank-themed cafes existed, but I've never had a reason to visit one of them until I was invited to attend savings-focused event at the cafe.
On the ground floor, you can order drinks and food and enjoy them with plenty of window-side seating available. On the second floor, there's more comfy seating in addition to a lounge sofa circling a coffee table — an area that's available for collaborative work.
So where does the banking part happen?
Bankers roam around the cafe and occasionally ask customers if there's anything they can help with financially — never hesitating to chat about saving and investing strategies, in addition to Capital One 360 products. After explaining that I already had a 360 Savings account, one banker suggested that I look into an account from ShareBuilder, the discount brokerage counterpart of Capital One 360. Not surprisingly, a majority of the cafe customers do not inquire about a Capital One 360 account, the banker said.
During the bustling morning hours, the Capital One 360 cafe has had lines stretching out the door and around the corner. Doused in natural lighting throughout the day, the atmosphere in the Capital One 360 cafe is a far cry from the typical dimly-lit Starbucks. It also doesn't hurt that there's free Wi-Fi and a cup of coffee costs a modest $1.50 at the cafe. (Not being a big coffee drinker, I cannot comment on its quality.)
Apparently, when they're not preaching financial advice or handling account issues, bankers can be found behind the counter making drinks for customers, as every Capital One 360 banker also doubles as a barista.
The Capital One 360 cafe is the only place where the person making your coffee can also explain the benefits of a 360 Checking or ShareBuilder account! Chances are you've never asked a Starbucks or Dunkin' Donuts employee about the best IRA option.
It may appear to be an odd marriage of coffee and banking but this "branch" concept may catch on as other online banks created similar establishments.
Related Stories:
Don't Be So Hasty to Leave Capital One 360
ING Direct to Be Rebranded as Capital One 360
Capital One 360 Cafes to Open in Late 2013
Ask a Question