Follow MyBankTracker on Twitter, Facebook and More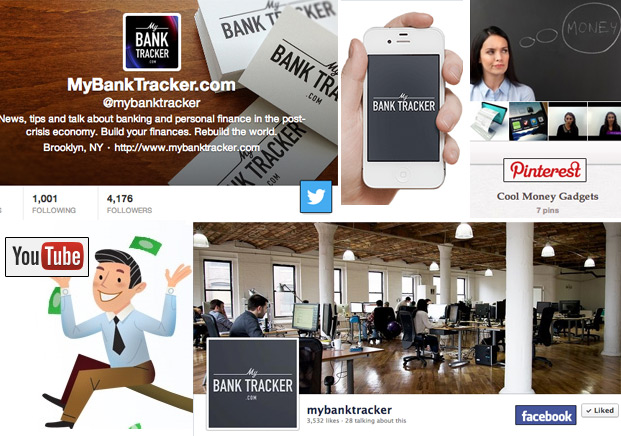 MyBankTracker is established on all fronts of the web, and our social media is a great way to keep up-to-date with our news stories and interact with our community. Use any of these to get in touch if you have feedback for us, or simply leave a comment on a story.
Here are some ways to integrate MyBankTracker into your life more easily:
Twitter
Not only do we tweet all of our news stories, we also link to other articles we deem relevant or useful. Follow us here: @MyBankTracker
Each week we feature a question and answer segment with our prolific personal finance writer Simon. Tweet him your questions @SimonZhen.
Facebook
Keep up with our stories on your News Feed by liking the MyBankTracker page on Facebook. We're beginning to give out prizes for commenting on our posts, so keep an eye out for more information!
Smartphone App
The MyBankTracker app, available for iOS and Android, allows you to browse our news stories and favorite them for future reference.
Newsletter
Get our newsletter delivered to your inbox. The newsletter is getting revamped soon, so look forward to an upgraded experience! See the top right section of our homepage to sign up.
Youtube
If you prefer watching over reading, our YouTube channel covers an array of topics from tax extensions to credit card fees; you're bound to find something useful there.
Pinterest & Google+
Follow our Google+ and Pinterest boards for original content as well as links to articles that can help you discover new ways to save money!
Related Stories:
How Social Media is Changing the Way We Look for Jobs
Banks Lack Social Media Efforts
Ask a Question