Mint Is Coming to Your Bank!
Since the recession, Americans have become increasingly aware of their personal finances. It's one of the reasons that Mint, the popular personal financial management (PFM) tool, has grown to boast a user base of more than 12 million. Until now, Mint has been a stand-alone service, but that's about to change.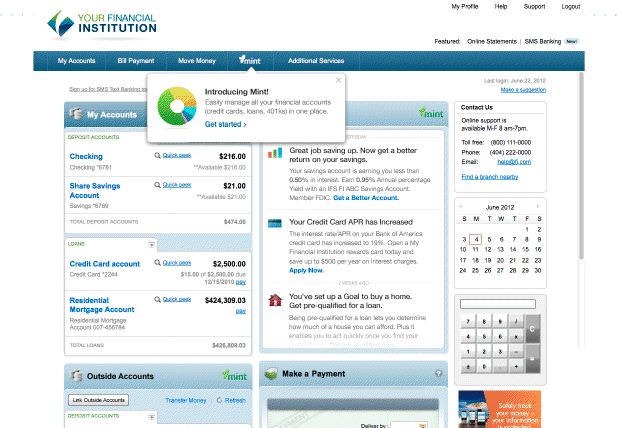 Intuit, parent company of Mint, plans to offer Mint through financial institution partners. Essentially, you'll have access to the PFM tool directly from your bank's online banking interface. And, banks will be able to integrate Mint into their mobile banking applications.
"We know that a vast majority of people actually want to use personal financial management tools through their bank, if it was offered," said Greg Wright, Vice President of Product Management at Intuit Financial Services, in an interview. "By blending Mint with digital banking, we're hoping to bring Mint's set of capabilities and tools to many, many more people."
For those who don't know, Mint lets you aggregate your financial accounts in one place, categorize transactions, manage budgets and receive advice and insights. It's a way for consumers to get a complete picture of their financial situation without having to sign into multiple sites.
Banks will be able integrate Mint into their online banking platforms by the end of 2013. Pilot tests are slated for five to six financial institutions during the summer. Wright declined to share the names of the piloting institutions.
Intuit currently offers another PFM platform, called FinanceWorks, for financial institutions partners. While the company will continue to support FinanceWorks, Mint will take the spotlight. "We see Mint as a premium offering that we're hoping most of our financial institution partners will upgrade to in the future," Wright added.
Empowering the saver within
A survey by Mint found that 80 percent of respondents preferred to access PFM tools through online banking. But, low adoption rates have been an eyesore for banks that offer similar money management tools as part of the online banking experience.
According to a 2012 comScore report, Bank of America's My Portfolio was used by only 12 percent of customers and Wells Fargo's My Spending Report was used by just 6 percent of customers in the first quarter of 2011.
Such tools are often "hidden off in tabs, not very engaging and not very insightful," Wright said.
Given many financial institutions have shown demand in incorporating Mint into online banking, Mint will get a prominent spot on bank customer's online banking navigation bar. And, from a feature standpoint, the core functionality is the same as that of Mint.com.
The advice engine is the biggest difference between Mint.com and Mint for financial institutions. While Mint.com may suggest another savings account or credit card from competing companies, Mint for financial institutions will cross-sell products from that specific financial institution.
With access to Mint through online banking, more consumers are introduced to a financial resource that can improve their money management. Last year, a survey by the Employee Benefit Research Institute found that 30 percent of Americans had less than $1,000 in savings. Meanwhile, the average Mint.com user has stashed away roughly $2,000 for their emergency funds.
Hopefully, every Mint-for-banks user will be able to tout such a statistic.
Related Stories:
Mint Concept: Check Your Balances on Your Watch
Which App Should I Use to Track My Money?
Report: Mint Could Deploy Budget-Conscious Debit Card
Ask a Question