Money Challenge Results: Cut Our Spending by 50%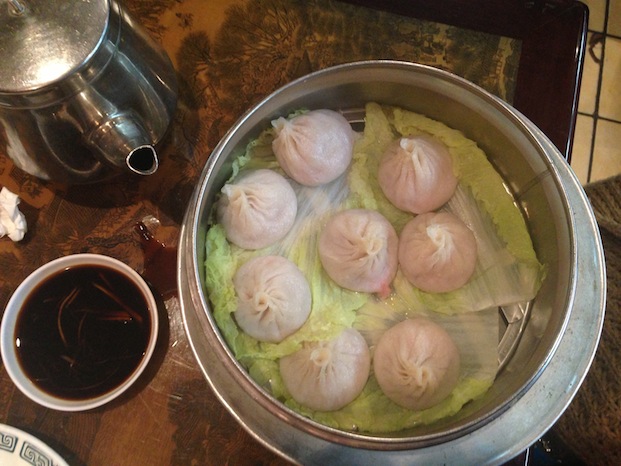 The week before last, our team at MyBankTracker tracked our expenses, noting where every single cent of hard-earned money went. Last week, the second part of that challenge involved taking the total of what we spent and slashing that figure by 50%. Some of us succeeded and some of us didn't. Read on to see details of our spending from last week:
Claire: After spending more than I wanted, the week before, I decided this week's challenge would be a breeze, but I was wrong. Now that the weather is warming up, I want to go out more, which means I will inevitably spend more.
For the first week of April, I spent most of my money on food and coffee. What can I say, I love eating and I enjoy a great cup of coffee.
I went to Fairway on Saturday for my weekly grocery shopping. I also got a haircut, which was wrong of me since we're trying to not spend, but I really needed it. Here is the breakdown:
Fairway: $49.91
Starbucks & Other Coffee Shops: (total) $22.64
Lunch at the food truck: $7
Sushi takeout: $23
Salon: $65
Cab ride: $12
Laundry: $5.25
I did not come in under budget from last week, as my grand total came out to $184.80. I was supposed to spend less than $160, but I came close!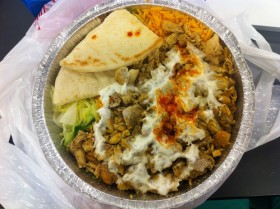 Laura: Considering how much I spent last week ($224.04), I did a pretty good job this week: $48.50 total. An almost 80% decrease, whaaat?? (I think I win.)
This was achieved because I was very busy and ended up being too tired to do any shopping. Instead, all of my expenses went toward food, except $4 for laundry. Warmer weather affected me a bit differently this week — $10.50 alone went toward ice cream and gelato.
Simon: For this challenge, I went from a low-spending week to a high-spending week. In the past 7 days, I've spent a total of $145.54 in discretionary purchases, as opposed to the $14.76 that I spent in the prior week (when I was sick). That's roughly 10 times more.
It was only fitting that my printer ran out of ink during tax season (thanks to multiple paper copies of tax returns for my parents and younger sister, who needed the copies for financial aid purposes). So, I picked up around $80 worth of ink, one of the most expensive liquids on Earth.
Another $10 was spent on restocking the DayQuil and NyQuil that I burned through. The rest went toward eating out — even free outdoor activities such as basketball during weekend can end being costly when friends decide to grab some food afterward.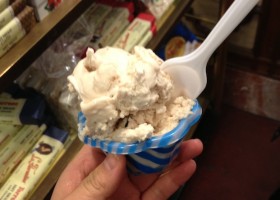 Amy: Since I spent $172 two weeks ago, I figured I had the ability to go way under budget for last week. And I did, sort of: I was so good all week — went on all my work breaks without bringing any money with me, and just spent $22 on food! — but running errands on Sunday did me in. I had to pick up groceries ($20.69), pick up a couple of things from Duane Reade ($28.82), and spent about $10 on food while out. My total for the week was $83.64. So I succeeded at the money challenge, but it was still higher than what I wanted to spend.
Katherine: Confession: I forgot to report one expense in our mid-challenge update! I had completely forgotten that I spent $15 on flowers for my grandmother, and let my sister keep the $5 change from the $20 used to purchase it, meaning there was $20 that got spent that I did not account for. Therefore, my total should have been $27.17, not $7.17.
That said, I feel way less guilty now about the amount I spent this week, which did go over my last week's spending. The amount sounds astronomical compared to last week's spending, but the reasons for it take the shock factor away. I spent… $90.65. How hilarious is it that I more than tripled my last week's spending instead of halving it?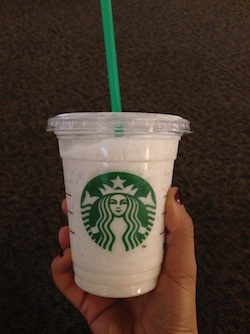 Breakdown: Half of the amount I spent was on a pair of jeans to replace the pair I have been wearing for the past 2 and a half years religiously, one that became my sole pair of jeans when all my other ones got worn out and had a hole so embarrassing I was starting to look homeless. That cost $49.50. Take that away and the rest of what I spent, $41.15, went to food. Two Vanilla Bean Frappucinos throughout the week from Starbucks, my weakness ($3.87 a piece), $6.41 on KFC (which I relapsed on this week after succeeding in determinedly boycotting for the past two years), $12 at my favorite Chinese food spot with a friend, and $15 at Applebees for some delicious chicken and broccoli Alfredo.
Explanation: Mainly, I was a lot more social this past week. I allowed myself more money for social meals instead of forcing myself to just go home and eat whatever was there. After all, a girl can't live by bread alone!
– – – – – –
MyBankTracker readers, how did you guys do? Did you meet your budget? Leave a comment below or on our Facebook page!
Related Stories:
Money Challenge: Expense Tracking and Saving
Money Challenge Update: Expense Tracking
Money Challenge Results: How Far Did $25 Go?
Ask a Question