New Wells Fargo Branch Concept: Going Small, Going Digital
Wells Fargo is playing its part in evolving bank branches: it will bring a new, hi-tech store concept that will make an appearance next week. Although these new branches are significantly smaller than the average Wells Fargo branch, feature-packed ATMs and mobile-enabled staff are expected to contribute to an unconventional banking experience.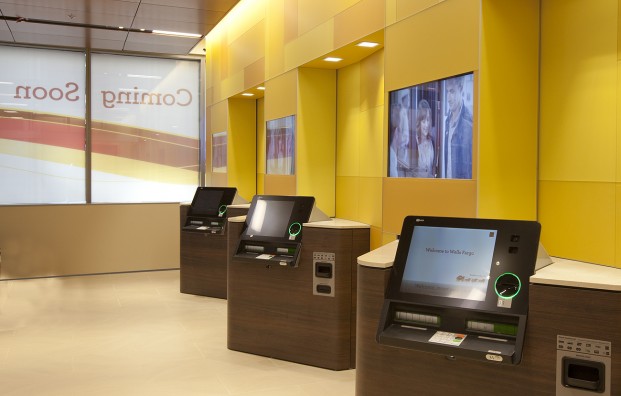 The first branch to test this concept is roughly 1,000 square feet while a regular Wells Fargo branch is 3,000 to 4,000 square feet. Bankers will be able to serve customers through wireless tablets and phones while a free wireless hotspot allows customers to access their online accounts.
Through upgraded large-screen ATMs, Wells Fargo customers will be able to withdraw cash in $1, $5, $20 and $100 denominations, a capability that is not yet available to most Wells Fargo ATMs.
"We're opening this first store in the NoMa neighborhood of Washington, D.C. and we plan to learn from the feedback we receive from our customers and team members," said Richele Messick, a Wells Fargo spokesperson, in an email statement. "From there we'll consider our options and opportunities for expanding and introducing this model into other markets."
With a successful turnout, Wells Fargo customers could see more of these new branches.
Branches fight back
The many innovations of online and mobile banking have led industry watchers to speculate that the death of branches is on the horizon. According to research firm SNL Financial, there were 2,267 bank branches that closed in 2012 while only 1,149 were opened.
Despite the dwindling number of branches, banks like Wells Fargo are betting on these types of physical locations.
Chase is testing innovative branches that offer self-service teller kiosks, instant issue debit and credit cards, paperless teller transactions and teleconferencing. Citibank has opened multiple flagship branches that feature interactive media walls, video-assisted customer service, free Wi-Fi for customers and enhanced-image ATMs.
It's a battle to maintain the relevance and utility of branches without neglecting the need for innovation.
Related Stories:
What Will Chase Bank Branches Do in the Future?
7 Things Foreign Banks Do Better
Under the Roofs of Coffee Shops You'll Find Your Online Bank
Ask a Question