Do Americans Shop When They're Stressed?
The answer is a resounding "yes."
According to a new poll conducted by the Huffington Post, 91% of Americans shop when they're stressed, and women are twice as likely to do so than men.
Their survey revealed that over 1,000 people asked, 40% of women were likely to use retail therapy to relieve stress, whereas only 19% of men would. In addition, 34% of men answered that they "never shopped out of stress and would never consider doing so in the future," as compared to 16% of women.
Interestingly, those who were prone to stress-shopping were also more likely to be involved with other activities to distract them from their stressors, such as eating, worrying about weight, or exercising.
In other words, the stress-shoppers are also "stress-eaters" and "stress-exercisers." Those who used retail therapy tend toward the "flight" side of fight vs. flight, distancing themselves from the stress with an unrelated activity rather than facing it head-on. In contrast, the respondents who said they never shop to deal with stress were more likely to cope by finding the root of their anxiety and confronting it.
These statistics are not all too surprising, given the rise in online shopping. According to market researcher Forrrester, online retail sales are supposed to hit $370 million by 2017 in the United States. Shopping has become ridiculously easy and efficient, with marketers competing for consumers' attentions across both mobile and web. In the same report, Forrester states that many retailers have diverted a lot of resources to e-commerce and adjusting their services so that it's easier for customers to buy products online.
In addition, of people surveyed in HuffPost's poll, those who were prone to stress-shopping were also "more likely to feel stressed out by unexpected expenses… and to be concerned about how they'll pay their monthly bills."
What should you be doing if someone who shops to reduce stress? If you're headed out, it might be a good idea to leave all your credit cards home. If you're at home, either look to do something else — you could catch that latest season of "Arrested Development" for some lessons on how not to spend your money! — or if you must purchase something, buy only items you know you need. A good rule to follow is to only buy something when the old one needs replacement, such as shoes, electronics or appliances.
As we've also covered, debt also causes stress, and shopping impulsively will most likely make increase debt. So if you can momentarily keep in mind how unwanted debt will give you stress down the road, it might be helpful in curbing the desire to shop altogether.
But MyBankTracker readers, how do you prevent yourselves from stress-shopping? What has stress-shopping done to affect your finances? Let us know in the comments section below or in our poll.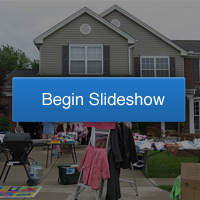 Related Stories:
Money Lessons from 'Arrested Development'
Forget Flowers & Cash: 5 Financially Savvy College Grad Gifts
Apple Evaded Billions in Taxes
Ask a Question