College Grads: How to Manage Your Finances This Summer
Congratulations, you've graduated from college! As a college grad, there are many transitions you'll be making into the "real world," now that you're done with 16 years of schooling. (Sixteen!)
Whether you have something lined up immediately or you plan on exploring options, it's important to understand your finances now that you're finished with undergraduate studies. You're a college grad, you have no excuse not to!
For those going to grad school
If you have student loans, you won't need to starting repayment until you're done with grad school. However, if you plan on taking out new loans for grad school, consider your options. If you took out loans for undergraduate studies and you didn't pick the best loans (read: they had high interest rates), now is the time to really learn more about the loans you're taking out. It's in your best interest to find loans with the lowest interest rates and how you can qualify for them.
Keep in mind, graduate school programs offer less financial aid than undergraduate ones. Perkins loans, for example, are available for grad students and they're government-backed loans, usually one of the best options because it has the lowest interest rate at 5%. However, only those who demonstrate serious financial need will qualify for these loans and how many Perkins dollars are available to you depends on the school you attend, which goes for all federally-backed loans. So if financial aid is a priority, make sure you do research on the kinds of loan amounts available to you from the schools you're interested in attending.
Find more information on the different kinds of student loans available in our Guides.
For those still looking for a job
Don't panic. The economy is still in bad shape, and despite it being less horrible than it was 5 years ago, it's still recovering at a very sluggish pace. Finding a job is not the same process as it was years ago, and it'll take perseverance and patience. Don't beat yourself up for not being a nab a job as fast as you'd like, and don't compare yourself incessantly with others who have.
If money is tight, absolutely consider moving home while you get it all figured out. If possible, get a job that gives you flexibility to look for others, so you can earn some money in the meantime. Also, consider doing odds-and-ends on the side to earn extra money, like picking up work on Elance.com or decluttering and selling your items. (Don't take the "Arrested Development" route of earning side money though!)
While it may be harder to figure out a budget when your financial circumstances can change day-to-day, budget anyway. Figure out how much you earn with your paying job, and how much side income you can also earn. Make goals for yourself to stay motivated.
If you have student loans, look into deferment options or income-based repayment plans. For certain plans, you may qualify for $0 monthly payments if your income is low enough.
Update your LinkedIn, post your resume on Monster, CareerBuilder, Indeed.com, and give Craigslist a browse. Attend networking events, career panels, and reach out to people for coffee to learn more about their career processes. Most importantly, stay productive and positive.
For those starting their first full-time jobs
Congratulations are in order again! You're going to start on another chapter of your life and if you have been lucky enough not to have to deal with money or finances outside of maintaining a part-time job during college, now is the time when you will.
Now that you'll be starting your first job, you have no excuse not to learn about how to manage your finances. Have you set up a bank account? Do you have credit cards? Do you plan on contributing to savings? Retirement?
While it may be overwhelming, we're here to help. If you didn't have a bank account while you were in college, set one up now. Consider what you want out of your bank — online checking, robust mobile banking, no-fee ATMs — and narrow down a list of options. Look up a bank and check out our bank report card pages for an overview on how well banks are doing, and read some of the comments from bank customers.
Now that you're hired and you know how much you'll be earning, figure out your living expenses. Even if budgeting is not your thing, list out all your anticipated costs (rent, utilities, food) and plan for the payments you'll be making (credit card? student loans?). Set some savings goals and contribute as much as you can. Even if you're only working with rough figures, once you have all those figures on your list, you'll be able to see how much money you'll have left over, month to month. The first few months of working with a budget might be tough, but after you have a better sense of your working lifestyle, managing your money will be much easier.
If you haven't used a credit card throughout college (bravo, my friend), it might be a good time to apply for one, just so you can build your credit history. Think about your lifestyle and get a card that fits what you like to do: do you eat out a lot? Get a card that has better reward options for dining out. Thinking of traveling a lot? Earn points towards travel. Check out our credit cards section to compare some of the best cards on the market.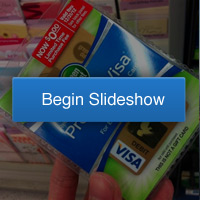 Related Stories:
How to Budget When You're Broke
6 Popular Online Degrees, Are They Worth It?
22 Things Every 22 Year-Old Should Know About Finances
Ask a Question