Worker Sues McDonald's For Being Paid Via Fee-Packed Debit Card
Single mom Natalie Gunshannon from Pennsylvania is suing McDonald's for paying her wages through the JPMorgan Chase Payroll Card, which charges various fees for use, ultimately resulting in Gunshannon earning less than minimum wage.
ABC News reports that Gunshannon is "hoping to have her case certified as a class action on behalf of the other employees who were paid with the Payroll card."
The Chase Payroll Card currently charges a $10 inactivity fee after 90 days, a $1.50 ATM fee, and also a $0.75 per online transaction.
According to the lawsuit, McDonald's "does not provide a choice for hourly employees to receive their justly earned wages through a bank check, cash or direct deposit." Gunshannon had allegedly asked to get her wages in the form of direct deposit, but was denied, which forced her to use the Chase Payroll Card.
In addition, "A growing number of employers use payroll cards to pay some of their employers, but it violates both state and federal law to pay by payroll card alone, according to Lauren Saunders, managing attorney with the National Consumer Law Center."
A payroll card essentially functions like a debit card, but they are only offered by employers who are paying workers for their services. You cannot apply to get a payroll card, and the sole purpose of the card is for employees to deposit a worker's wages. Employees can withdraw their money through ATMs or a cash-back purchase.
However, there are fees associated with the cards, which is why Gunshannon is suing McDonald's in the first place, because the accumulation of usage fees would bring her $7.44 hourly wage down below the Pennsylvania minimum wage of $7.25.
According to an attorney for Consumers Union who was interviewed, "some employers are motivated to pay wages with these payroll cards to cut the cost of distributing paper checks."
Do you think that Gunshannon is fair to sue McDonald's? Have you ever been paid with a payroll card? Let us know in the comments below.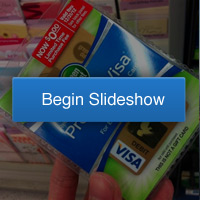 Related Stories:
Justin Bieber's Prepaid Card Won't Teach Kids About Money
Ask a Question