Independence Day Bank Hours 2013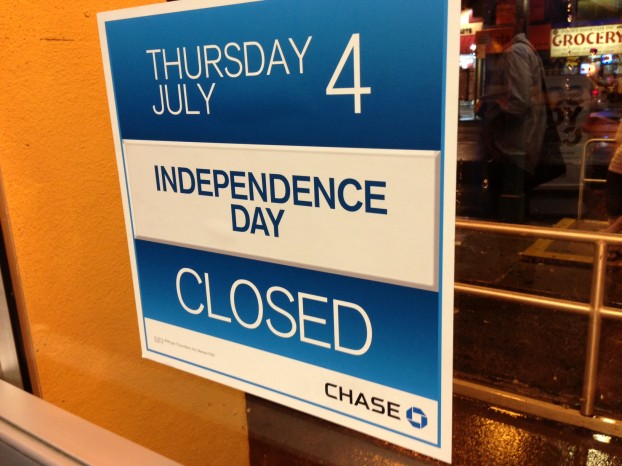 The Fourth of July holiday is Thursday and many of you are already thinking about the 4-day break (if you're taking Friday off as well). According to AAA, 40.8 million Americans will celebrate the country's birthday with a getaway. Before you go daydreaming about barbeques and fireworks, get your banking chores done and enjoy your break without worries.
Since Independence Day is a federal holiday, it should be no surprise that most banks are closed for business. But, TD Bank continues to reinforce its self-proclaimed label as "America's Most Convenient Bank" by opening its doors for business until 1:00 P.M. — bank employees need breaks too!
Additionally, while standalone branches of PNC Bank and SunTrust Bank are closed, their in-store bank locations may be open for limited hours on July 4. This may also be the case for other banks that have branches within retail stores (usually supermarkets).
If you've got any financial chores to take care of, get them done today.
See the Independence Day 2013 holiday schedule for the largest U.S. banks:
Remember that you can always use online, mobile and ATM banking to manage your finances when branches are closed. However, note that any transactions initiated on July 4 will not process until July 5 because Independence Day is not considered a "business day." Note this if a bill is due on July 4 because your payment will be considered late.
Related Stories:
Fourth of July Discounts & Deals
Top 5 Travel Rewards Credit Cards
Ask a Question