3 Finance Apps Just As Good As Mint
Since this article was published, Manilla has closed on July 1, 2014. Check out this updated article that highlights three more worthwhile personal finance apps.
Since its inception in 2007, Mint has stolen the spotlight as the best personal finance app on the market. From WIRED to CNN Money, Mint has received accolades from every corner of the web. And it's easy to see why — as a free online personal finance service, Mint's appeal is undeniable.
Mint works by pulling all your personal finance accounts into one place, and acts as a free money manager, which enables you to track your spending, create a budget, and set up goals. Users are also able to track their spending, set up low balance alerts, and browse relevant financial products.
However, as noted in the first edition of our superior financial apps story, Mint has some room for improvement. These include Mint's transaction features, which often incorrectly categorizes the user's spending, requiring manual intervention.
Another is the synchronization flaws that plague Mint, disrupting the user experience. Originally, Mint worked with a financial data aggregator called Yodlee, which enabled Mint to grab updated account details automatically every time a user visited their site.
However, in 2009, Intuit, the maker of Quicken, a desktop personal finance program, purchased Mint. The company stopped using Yodlee as their data provider and used Intuit instead. Since then, users have reported issues with Mint, such as having to manually repair broken connections with bank or credit card accounts. As Mint improves its app experience, there are a few alternatives that may fit your needs just as well.
Check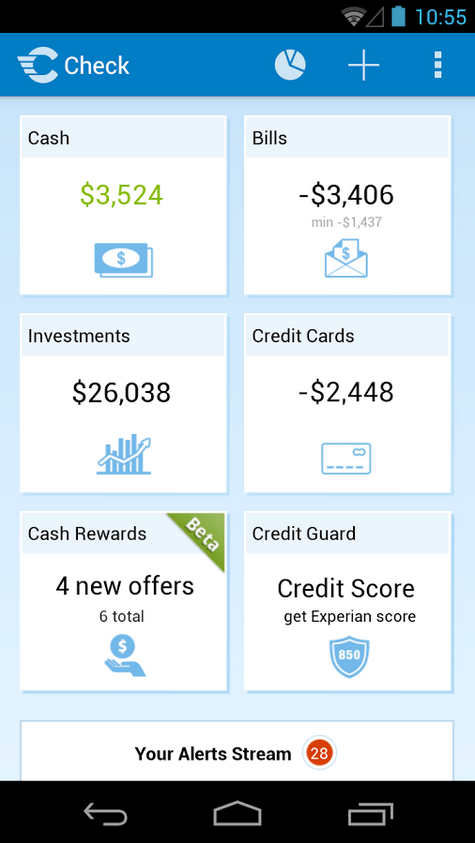 Similar to Mint, Check, formerly known as Pageonce, is a free app that helps you stay on top of your bills and money. The difference between the two is that Check is more mobile-friendly and technically sound.
Check works on multiple devices, including the Web, iPhone, Android, Windows Phone, and Blackberry. It requires users to supply the app with the login passwords for financial accounts and household expenses — cable, electric, gas, and phone bills. The application then creates a dashboard in which all your finances are summarized in one easy-to-read overview.
From that point, users can click any section to get more in-depth information, and check the balances of their individual checking, savings, and credit card accounts. Bills are a snap to see and pay (right from within the app). Additionally, Check also shows the balance of investment accounts, such as an IRA or 401(k).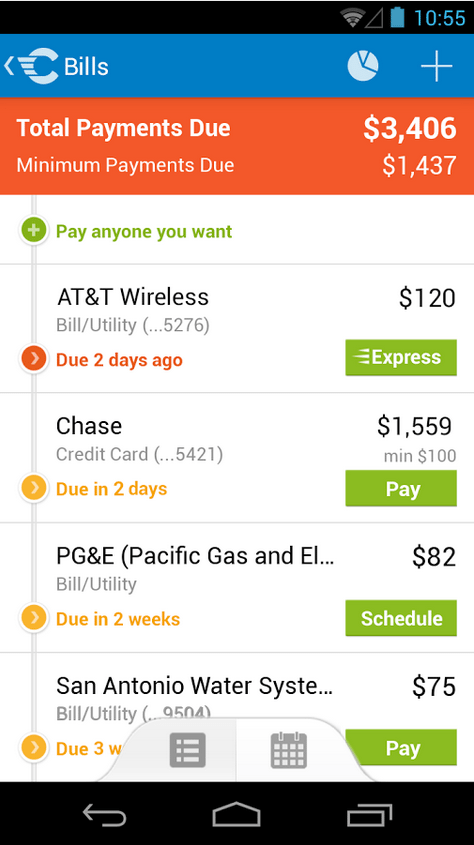 Lastly, it offers financial deals tailored around a user's unique financial situation. Just like Mint, Check sends reminders for upcoming bill payments, offers tools to track and organize spending, and comes with a cool "file cabinet" feature that holds copies of past bank statements and utility bills.
The most noteworthy feature that sets Check apart from Mint is the fact that users have a more seamless experience when linking to their financial accounts.
Manilla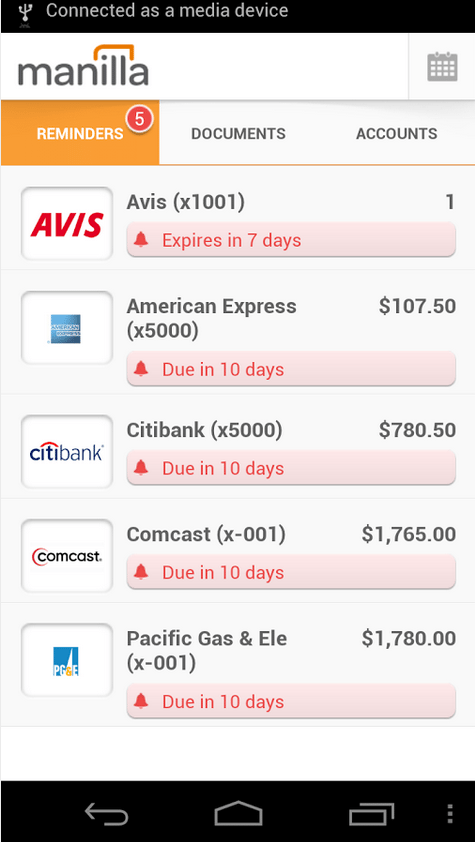 Manilla is another user-friendly app that empowers users to stay on top of their bills consistently by consolidating all their financial accounts under one password. Available for Android or iPhone, this app gives automatic reminders as your bills edge closer to the due date, and provides an organized digital filing cabinet to keep track of bills, statements, notices, and offers.
For anyone who doesn't like keeping paper copies of records, Manilla is a great tool for organizing and accessing records digitally. In addition, Manilla also helps users keep track of reward programs and loyalty cards. It takes the guesswork out of bill payments, and reminds users pay them on time.
Personal Capital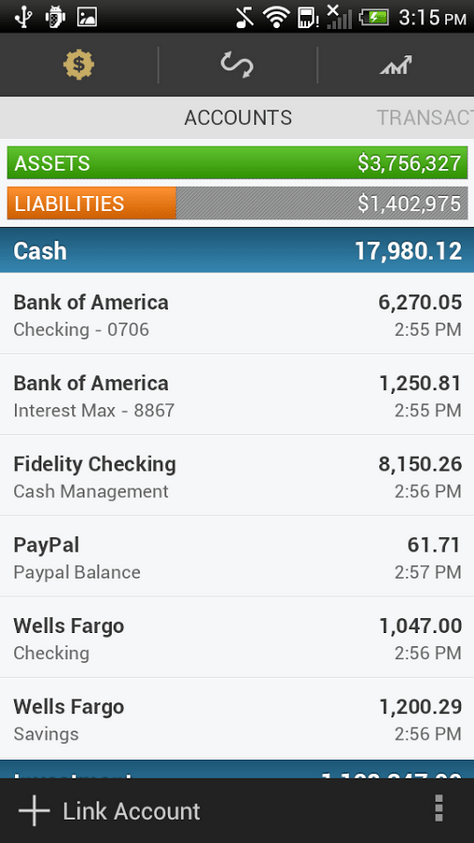 Whereas Mint is optimal as a budgeting tool, it is not the most helpful when it comes to investment planning. For those more well-versed on the investing side of personal finance, Personal Capital is a great option.
Personal Capital distinguishes itself as a "wealth management" tool, and offers users a profile of their financial situation by combining bank accounts, investment accounts, and more. Unlike the previously mentioned apps, Personal Capital is not the way to go for users who want to create budgets or saving goals.
Personal Capital is an investor's tool, as it has a lot of features focused on investing, as well as planning for retirement. For example, the 401(k) fee analyzer tells you how much your retirement plan is costing you (as well as the fees you're paying). Another interesting feature is the investment checkup, which gives an indication of how you're doing with your investment planning (green is okay, yellow is caution, and red is warning).
Personal Capital does what Mint doesn't, and is optimal for users focused on their financial assets who want easy access to expert investment advisors in order to boost their "personal capital."
Though Mint is still a popular option, these other apps give it a run for its money.
What's your favorite app?
Ask a Question