Update: Find out if your bank will be open this Veterans Day!
This coming Monday, the country will celebrate the millions of American veterans who served in the in military service — not to be confused with Memorial Day, when we honor those who died while in service. Since it is a federal holiday, many government offices will be closed on this day, but what about banks? Check out the Veteran Day bank hours of 2013 below to see if your bank will be open to accommodate you on this holiday.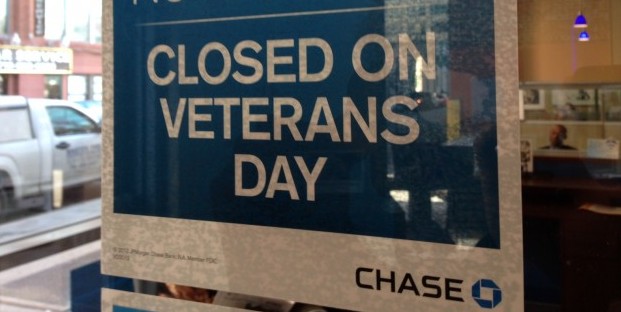 Since it is a federal holiday, many banks will be closed for the day as well. However, the some of the bigger banks are actually open for business on Veterans Day.
For example, TD Bank will continue to serve customers on Monday, since Veterans Day is one of the many holidays for which the bank will remain open. Additionally, the supermarket branches of PNC and SunTrust will operate as usual (hours may vary by location).
For those who have banking chores to get done on Monday, it would be best to tackle them today or over the weekend. Since Veterans Day is not considered a normal business day, expect some financial transactions to take longer to process, regardless of whether or not the bank is open.
Meanwhile, the stock market will remain open for the holiday.
Here is the holiday schedule for Veterans Day for the 13 largest U.S. banks:
Many bank customers will not suffer a major inconvenience from the holiday closings because most everyday banking transactions can be performed through online, mobile and ATM banking. Making check deposits, bill payments and cash withdrawals should be as easy as any other day.
Tip: Make sure to use your bank's ATM to avoid any fees. If you don't have a choice, be sure to read this article on 6 easy ways to avoid all ATM fees before heading out!
If you are unsure of the Veterans Day holiday hours and schedule of your bank or local branch, call your bank ahead by searching for your bank on MyBankTracker's bank profile page.
Ask a Question