Update: Find out if your bank will be open this Thanksgiving Day!
Thanksgiving Day is Thursday, and many Americans will fill their homes with loved ones and will feast on turkey. And, let's not forget, as one of the biggest holidays of the year, most businesses will be closed, but what about your bank? Check out the Thanksgiving Day 2013 bank hours at the top 10 banks in America.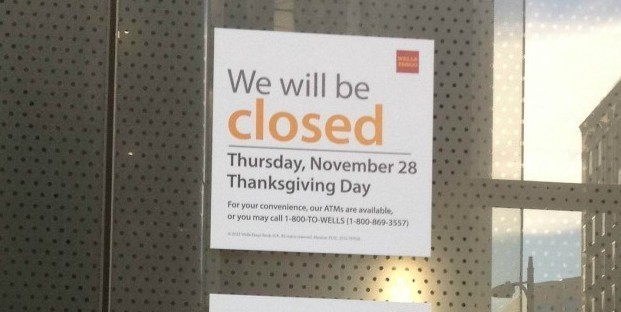 Are banks open on Thanksgiving Day?
The bank is not one of the places you want to be visiting on a big holiday such as Thanksgiving. Make the effort to visit the bank if there are any financial chores that need to be completed before Thursday.
Here is the holiday schedule for Thanksgiving Day for the 13 largest U.S. banks:
Every bank in the country will be closed, including TD Bank, which is often recognized for staying open on many U.S. holidays. Furthermore, don't expect the supermarket branches of PNC and SunTrust to be open either.
The stock market will also be closed.
What to do when your bank is closed
If you must deal with any financial tasks on Thanksgiving, remember that ATMs, online banking and mobile banking can be used to manage finances. Common transactions such as cash withdrawals, check deposits and bill payments can still be made.
However, note that Thanksgiving is not considered a regular business day, which may mean that certain transactions will not process until Friday, the next regular business day.
Tip: Make sure to use your bank's ATM to avoid any fees. If you don't have a choice, be sure to read this article on 6 easy ways to avoid all ATM fees before heading out!
If you have any questions about how the holiday may affect your financial transactions, it's always a good idea to contact your bank for the best possible information by searching for your bank on MyBankTracker's Bank Profile page.
With that, enjoy a delicious Thanksgiving meal and have a happy Thanksgiving!
Ask a Question