Christmas Day 2013 Bank Hours: All Banks Closed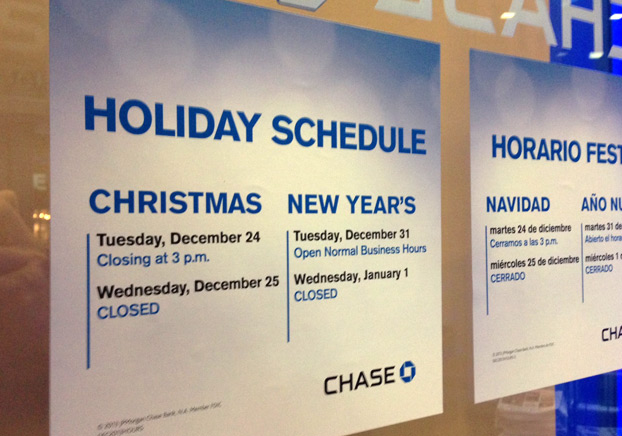 'Twas the day of Christmas — when all through the bank, not a creature will be stirring — not even a banker!
Most Americans will wake up to a morning of gifts and time with loved ones — including bankers! This is because all banks will be closed in observance of Christmas Day, which is one of the major federal holidays. This list even includes TD Bank, which tends to stay open throughout most U.S. holidays. Furthermore, don't expect the supermarket branches of PNC and SunTrust to be open either, as they will all be closed.
Although your banks might be closed, your financial duties will not be going anywhere, so you should try to plan ahead. Remember that you can always conduct your banking through online and mobile channels. If you need to get cash from the ATM, you can rest assured that ATMs will remain accessible any day of the week, even through the holidays.
On the other hand, if you have any errands to run at the bank, especially the ones that will require the help of a banker or a teller, make an effort to take a visit before this merry day.
Schedule accordingly to the changes in the bank hours for Christmas Eve, as most banks will only be open for limited times on this day, mostly closing around 2:00 P.M. to 3:00 P.M. To find out the holiday bank hours for Christmas Eve of 2013, click here!
Here is the holiday schedule for Christmas Day for the 13 largest U.S. banks:
If you have any questions about how the holiday may affect your financial transactions, it's always a good idea to contact your bank for the best possible information.
Hope you receive everything you wished for this holiday! The MyBankTracker team would like to wish you all a safe and Happy Holiday!
Ask a Question