How PNC Bank Branches Will Change in 2014
PNC Bank is one of several major financial institutions that has begun to test new branch concepts centered around digital technology and the changing role of the bank teller. Mini e-branches, pop-up branches and smarter ATMs are being used to identify what customers want out of branches.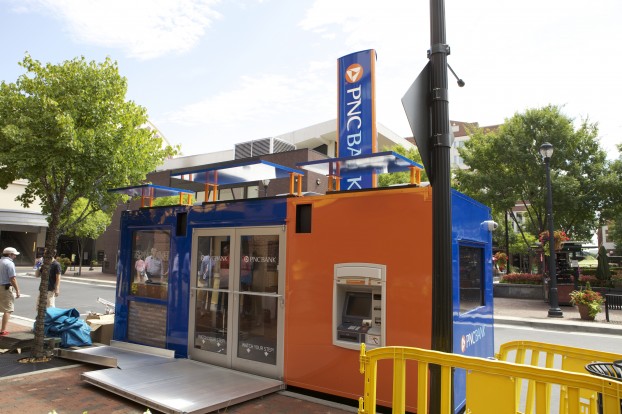 "We're in the R&D phase, there isn't a blueprint or single answer that we believe we know or the industry itself has," said Todd Barnhart, executive vice president of branch banking at PNC, in an interview. "We're trying to react to and anticipate some of the consumer expectations and consumer trends that we're seeing."
According to a 2013 survey by Pew Research, 51 percent of U.S. adults, or 61 percent of Internet users, bank online while 32 percent of U.S. adults, or 35 percent of cell phone owners, bank through their mobile devices.
PNC is catering to the increasingly technologically-adept population by testing ATMs that are capable of carrying out many more transactions than a typical ATM.
Customers can cash and deposit checks, after which check images are printed on receipts. Cash withdrawals can come in multiple denominations (as small as $1 bills). Such ATMs are available 24 hours a day at pilot e-branches, where there are no human tellers.
Evolution of the bank teller
With more consumers opting for self-service methods of banking, PNC is placing great emphasis on the transforming roles of bank tellers.
"Certainly, as self-service becomes more prominent for routine service transactions, the need for as many tellers as we have today will change and diminish," said Barnhart. "But, we also see people still wanting to come into a branch for products, advice or more complicated discussions and transactions."
Going forward, PNC tellers are more likely to act as financial consultants that don't stand behind a counter or sit at a desk. Instead, bank associates will be found throughout the branch assisting and educating customers. Meanwhile, branches will have tablet devices that can act as both sales and service channels.
Wells Fargo is another major bank that has been testing branches where tellers walk around with mobile devices to serve customers.
Branding with pop-up branches
While PNC considers the overhaul of the branch experience, the bank is also using "pop-up" branches as part of its branding strategy. The pop-up branches have one ATM and offers the opportunity for people to learn more about PNC products.
These portable branches allow PNC to market to consumers without having to commit to a full-fledged branch.
What customers can expect in 2014
Many of PNC's branch concepts began testing in the later half of 2013 — some customers may have already gotten a taste of the future of branch banking. Depending on customer response to the branch concepts, PNC plans to act accordingly.
"We'll continue to open new branches, particularly in places, such as Atlanta or Charlotte, where we are a newest entrant in the market," said Barnhart. "They typically will be — not always — smaller, staffed differently, and they'll have more technology in the branch to align very well with many of the branch concepts that we see important in the future."
There will be more testing and experimentation with branch layouts, formats and staffing during the earlier half of 2014.
"Conversion of existing branches to different formats and staffing models is something we'll take on more aggressively in the later half of 2014," Barnhart added.
Related Stories:
Banking Predictions for 2014: Branch Banking, Interest Rates, Mobile Wallets and More
Bank of America® to Launch Next-Gen Branches With ATM Tellers
What Will Chase Bank Branches Do in the Future?
Ask a Question