Virgin America Launches Two New Credit Cards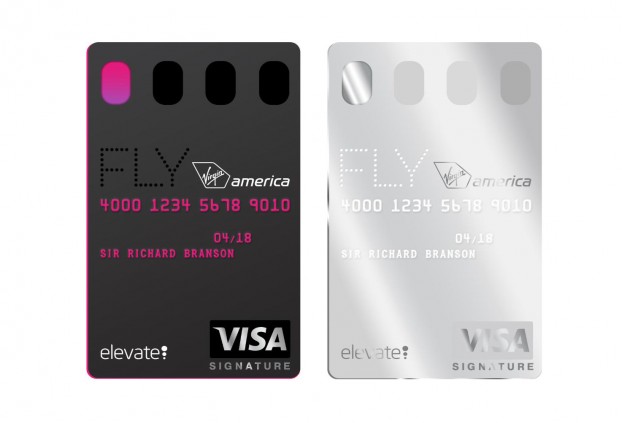 Virgin America, known for its low-cost airfares, revamped its credit card offerings with two new cards, both of which tout relatively low annual fees compared to other airline credit cards. One card is ideal for nearly any Virgin America guest, while the other aims to deliver a better travel experience to frequent fliers.
Worth it with just one trip per year
The Virgin America Visa Signature Card has a $49 annual fee and cardmembers earn 3 reward points per $1 spent with Virgin America and 1 reward point per $1 spent on everything else.
The first checked bag is free for the cardmember and one companion on Virgin America flights. Every year, cardmembers can purchase a companion ticket with a $150 discount. Cardmembers also receive a 20 percent discount on in-flight purchases.
Compared to most other airlines' low-tier credit cards, Virgin's $49 annual fee card is appears very attractive. The $150 discount on a companion ticket easily makes up for the $49 annual cost. Additionally, cardmembers save $50 per roundtrip flight in which they check a bag, or $100 per roundtrip flight if the cardmember flies with a plus-one.
For $49 per year, the Virgin America Visa Signature Card brings plenty of value, even if cardmembers fly with Virgin only once a year.
The better deal for frequent fliers
The Virgin America Premium Visa Signature Card has a $149 annual fee and carries all the features of the regular Virgin America Visa Signature Card plus more.
For the higher annual fee, cardmembers do not have to pay for changes or cancellation fees on Virgin America flights. The card allows travelers to earn up to 5,000 status points toward Virgin America's Elevate frequent flyer program per $10,000 (maximum 15,000 status points per calendar year). The status points can be carried over when the account is renewed.
For $100 more, the Virgin America Premium Visa Signature Card offers flexibility when there are changes to travel plans. However, the biggest value comes from the ability to Elevate status points much faster.
Depending on the Elevate status (there are three), there are various travel perks that can provide an enhanced travel experience with Virgin America.
The lowest Elevate status is Red, which requires no status points. Red Elevate members get 5 Elevate rewards points per $1 spent on Virgin America flights and they also earn points on other Virgin airline partners. Additionally, they get to pick their seats at check-in, as opposed to during boarding.
The next tier is Silver, which requires 20,000 status points. Silver Elevate members get an additional 25 percent bonus on Elevate rewards points earned on Virgin America flights. Complimentary express seat selection at booking, complimentary upgrades to Main Cabin Select (Virgin America's mid-tier travel class), and 25 percent off a non-refundable Main Cabin ticket (the bottom-tier travel class) per year. Additionally, Silver members get a dedicated call line and priority check-in, baggage handling, security screening and boarding.
The top-tier status is Gold, which can be obtained with 50,000 status points. It offers a few extra perks on top of all benefits found in the Silver tier. Gold Elevate members get double the amount of rewards points earned on Virgin America flights, up to three free checked bags, 25 percent off two Main Cabin tickets per year, and priority travel privileges with Virgin Atlantic and Virgin Australia.
Assuming that Silver or Gold Elevate status is obtained, the extra $100 spent on the annual fee for the Virgin America Premium Visa Signature Card can be recouped quickly from just the free checked bags.
Frequent Virgin America fliers who prefer the travel-class upgrades and priority travel perks will find that the higher annual fee is worth it.
Related Stories:
Credit Card Changes to Expect After American Airlines-US Airways Merger
Pick the Right Southwest Airlines Credit Card for You
Simon Says: When It's Worth Buying Airline Miles
Ask a Question