T-Mobile Wants to Be Your Bank, Launches Prepaid Card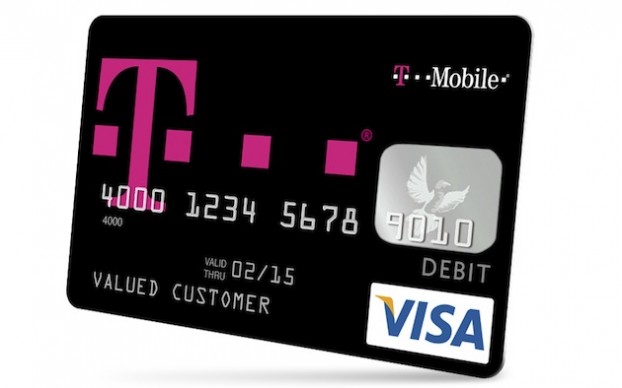 T-Mobile, the third-largest mobile carrier in the U.S., is making a strong push into the financial industry with the launch of reloadable prepaid card that is fee-friendly to consumers who are also T-Mobile customers.
The T-Mobile Visa Prepaid Card is offered in partnership with The Bancorp Bank as part of the telecom giant's "Mobile Money" initiative.
"Millions of Americans pay outrageous fees to check cashers, payday lenders and other predatory businesses — just for the right use their own money," said John Legere, president and CEO of T-Mobile, in a press release. "Mobile Money shifts the balance of power for T-Mobile customers and keeps more money in their pockets."
For T-Mobile customers, the prepaid card has no purchase fee, no monthly fee and no fee for cash reloads at T-Mobile stores.
Non-customers pay $4 to get the card, pay $5 for monthly maintenance (waived for those who load $500 or more in the previous month) and cannot use T-Mobile stores for reloads.
Funds can be added through T-Mobile stores, direct deposit, mobile check deposit, Reloadit Packs, MoneyGram and Visa ReadyLink. T-Mobile doesn't charge a fee when cardholders withdraw cash from an in-network ATM, but a $2 ATM fee applied for out-of-network ATM withdrawals.
Native mobile applications for iPhone and Android devices allow cardmembers to view account details, add funds, transfer funds, pay bills, deposit checks and locate in-network ATMs.
Replacing the checking account
With the introduction of the prepaid card, T-Mobile enters a crowded arena that already holds many prepaid-card competitors. The telecom provider touts the prepaid card as a viable alternative to financial services used by consumers who don't, or choose not to, use traditional banking products.
"I think T-Mobile has a good initial offering, but with a little more thought, it could be great," said Jim Wells, president of Wellspring Consulting International. "T-Mobile would be better advised to contrast its program against the tyranny of banks — that are already losing hundreds of thousands of depositors a year because of punishing fees and charges, declining convenience and customer service, and unbelievable arrogance and insensitivity to customer needs."
For T-Mobile customers, the prepaid card account offers many of the features that one would find with a traditional free checking account — without the access to face-to-face service from a bank branch.
Cardmembers can make retail purchases, pay bills, issue checks (through the bill payment service), deposit and withdraw cash, receive direct deposits and more.
Currently, none of the top 10 U.S. banks offer a free checking account — most basic checking accounts at these banks carry monthly fees that can be waived when certain conditions are met.
Related Stories:
5 Unique Uses for Prepaid Debit Cards
ECredable to Attract 'Thin-File' Borrowers Via Prepaid Cards
Google Wallet Launches Physical Debit Card
Ask a Question