The Best Finance Apps to Help Save You Time and Money
At MyBankTracker, we are always looking for ways to help people save money and get more out of their personal finances. A variety of useful banking and financial tools can help you do just that, freeing up more money for paying off debt, making investments, or just having more fun.
Mobile finance and banking apps have come a long way in the last few years. Many provide genuinely valuable services when it comes to saving money, tracking spending, and managing personal finances. Even more apps can help save and track money on the go, offering instant coupons and price comparisons as you shop. Here is a roundup of several tools which work on numerous platforms, all of which can help you get on track for a financially fabulous year.
1. Mint
Mint helps you keep track of how much you spend, where you tend to spend it, and on what kinds of goods and services. The app also helps you to create a budget for each category, and you can see how much you've spent and how much is left in the allowance you set with a few clicks.
It also lets you easily compare your cash spending versus credit to track your habits and change them if you desire, so it offers a variety of ways to help you track your habits to save money. The app is free and works on Android, iPhone and iPad devices.
2. Check
Another free mobile banking app, Check (and formerly known as) Pageonce, helps you keep track of money and bills to help consumers save money by avoiding late payments and overdraft fees. Highly rated by users, it won Google Play's Best App of 2013 and works with both Android and iPhone devices.
It not only keeps track of when bills are due, but allows you to schedule payments, or make payments at any time using a bank account or credit card with a fee. Users can set up alerts to know when funds are getting low or due dates are approaching. Making payments on time is also important to keep a credit score in good shape, and this app gives you the tools to stay on track in the palm of your hand.
3. RedLaser
RedLaser is a free app which can compare prices between retailers to help you save money on purchases. Available for Android, iPhone, iPad, and Windows Phone devices, this app lets users scan barcodes in stores and compare prices with other retailers, both locally and online. The app also gives users access to coupons and discount codes, and even nutritional information about scanned foods through a partnership with Fooducate. It also supports voice commands when a barcode isn't available.
4. PayPal Mobile
While it's not as feature-rich as other apps mentioned, this free app makes it easy for PayPal users to access funds in their PayPal accounts quickly and on the go.
Users can order ahead at restaurants and prepay with the app, or pay in person at stores and cafes. The app can also be used to send money the same way users can at the PayPal website. The mobile app is available for Android, iPhone, iPad, and Windows Phone devices.
5. Slice
Designed to track your online purchases and their whereabouts, Slice is a mobile app that can also help you track other purchase-related issues. The app, available as an online app or for Android and iPhone, can alert users to recall the status of online purchases, or price adjustments for which the buyer may be eligible, so you can save money even after a purchase has been made.
While it is more than just a package tracker, the app can send a text message when a delivery is close to being dropped at your door.
6. Expensify
Tired of missing out on reimbursements by losing receipts for work-related expenses? Expensify is a mobile app, compatible with Android, BlackBerry, all iOS, and Windows Phone devices, that allows you to keep track of spending and receipts.
Users can take pictures of work-related receipts, then create and submit expense forms to employers on the go. Desktop software is available for accounting professionals to quickly and easily manage the books and receipts.
7. Coupon Sherpa
Coupon Sherpa is a free app for Android or iPhone and iPad devices that provides on-location access to restaurant and in-store, money-saving coupons. As long as a user's mobile device has a access to a cell phone signal or WiFi, coupons, updated daily, can be found and used at the retailer listed in Coupon Sherpa's directory.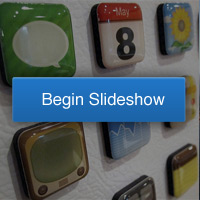 Related Stories:
6 Handy Apps to Help You Find a Home
Full Cash Payment for Homes on the Rise: Foreclosures Driving Sales
Ask a Question