Chase Tests Quick Checkout Option for Online, Mobile Shopping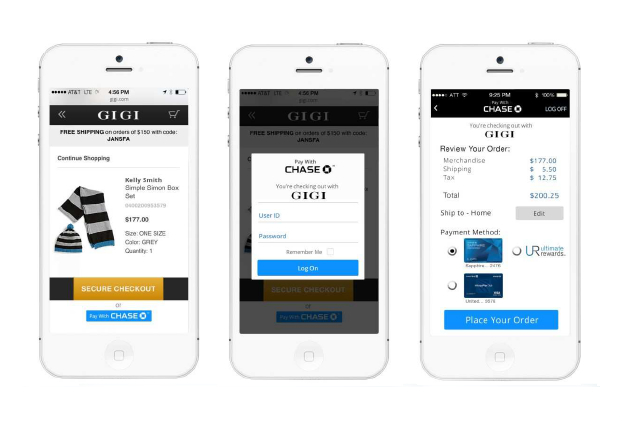 Chase is piloting a new payment platform that would allow customers to make purchases at participating merchants quickly. Instead of having to provide their personal and card information at these merchants, customers simply have to use their Chase online login credentials.
Unveiled in this week's JPMorgan Chase Investor Day conference, the platform uses the Chase Wallet and Quick Checkout innovations to create an online and mobile shopping experience that rivals similar platforms offered by PayPal, Google Wallet, Visa's V.me and MasterCard MasterPass.
The Chase Wallet will store customers' shipping information and Chase credit card information for use through the Quick Checkout option, which is available through partnered merchants.
Customers simply type in their Chase usernames and passwords to access the Chase Wallet, after which they can select the Chase card or their Ultimate Rewards points balance to pay for the purchase. Chase will open the platform to non-Chase cards to increase adoption and convenience.
Additionally, partnered merchants are able to offer targeted deals to Chase customers who use the Quick Checkout method.
The new payment platform from Chase is touted as more than just a way for customers to expedite their online and mobile shopping trips, it also presents a safer way to make online purchases amid the rising threat of cybercrime.
Recent exposures of payment-card data breaches at major U.S. retailers have raised questions over the safety of consumer payment information.
With the Chase Wallet, payment-card data is useless if it ends up in the hands of hackers. Such is the case for the other ecommerce platforms from PayPal, Google, Visa and MasterCard. These other companies also allow consumers to link multiple payment cards to a single login credential.
The increasing number of ways for faster online and mobile checkouts means that it will be less of a hassle for consumers engage in digital shopping. Despite the late entry compared to other established third-party companies, Chase has the advantage of being a bank, which is likely to garner more consumer trust.
Related Stories:
HSBC to Provide Free Security Device for Safer Online Banking
The Most Secure Big Banks That Offer Extra Account Protection
Bank vs. Retailers: Who's Responsible for Protecting Your Data?
Ask a Question