Electric Car Sales Will Crack 1 Percent U.S. Market Share in 2014
Despite stable gas prices, electric car sales in the U.S. were surprisingly robust last year, outpacing cars with internal combustion engines. All-electric car sales are up by 447.95 percent while plug-in hybrids climbed 35.86 percent. Electric car sales are projected to crack 1 percent of the U.S. automobile market in 2014.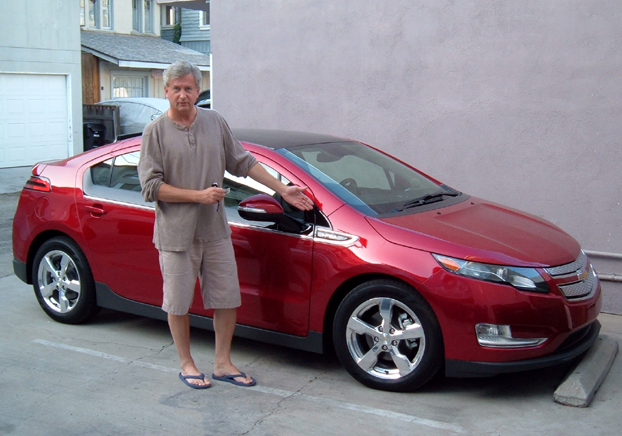 Although gas prices fluctuate, peaking recently in 2008, the long term trend is up. The average price of a regular gallon of gas in the U.S. is now $3.50. Ten years ago, it was half that. Getting an electric car means never having to stop for gas.
Most drives are well within the mileage range of electric vehicles, but for people who frequently travel further, plug-in hybrids are a popular option. GM cut the price of the Chevy Volt by $5,000, shown here by Dean Adams Curtis co-founder of GreenFamilyCar.com. Curtis appreciates the fact that the Volt is a hybrid. It can go 38 miles on a charge until the gas engine kicks in. "It happened to me once on the freeway," Curtis told me, "the changeover was flawless."
Technological advances like super-capacitors, are increasing the range of electric vehicles. Costs have fallen, through a combination of technological improvements and government incentives. "Vehicle manufacturers are being required to meet zero emission goals like those in place in California where there must be 1.5 million zero emissions vehicles on the state's roads by 2025," said Keith Turner co-founder of GreenFamilyCar.com "The state is supporting, financing and building the infrastructure – such as electric vehicle charging stations in public parking lots."
Electric cars are now affordable
As one example, the all-electric 2014 Mitsubishi i-MiEV ES starts at $22,995, a cut of $6,130 from the year before. After factoring in the Federal tax credit of $7,500, the net MSRP of the 2014 Mitsubishi i-MiEV drops down to $15,495. State rebates or tax credits further reduce the cost, from $1,000 in Maryland to $6,000 in Colorado where you could whip through the Rockies in a new electric car for $9495. "From a driver's perspective, it's just plain fun to drive because it's small and spunky, with lots of zip," Turner said. "You really get the feeling that you are quicker and more nimble than any other car on the road."
As of November 2013, 40 states and the District of Columbia have put in place additional incentives including high-occupancy vehicle lane exemptions letting single drivers slice through rush hour traffic, inspection exemptions and registration fee reductions.
Some critics dismiss electric cars as coal cars, saying that they are not saving the environment because coal fired power plants are the biggest source of our nation's air pollution. Coal does remain the dominant source of electricity generation in the U.S., however coal fired power plants are increasingly being retired. More electric generating plants are being powered by natural gas, or alternatives like wind power and solar. By driving an electric car, "You are not emitting the deadly carbon emissions that gasoline-burning vehicles produce, so you are not contributing to air pollution and global climate change," Turner said.
Marvin Moon, Director of Power Systems Engineering Division of the Los Angeles Department of Water and Power, told me that the utility recognized that electric cars were a good fit for the LA power system because they would charge at off-peak hours overnight. "The power can be stored in the vehicle's batteries for use when the vehicle is needed and any excess electricity can then be fed back to the electric power grid for use during periods of high energy demand," Turner said.
If you couple your electric car with your own solar power system, as Ed Begley Jr. did, you've got guaranteed clean-green propulsion.
One of the best reasons for owning an electric car is that they're fun to drive. "With no rev-up or torque that you experience in standard gasoline vehicles, electric cars are able to zip off the starting line in a split second – way faster than even the highest-powered gasoline engines," Turner said.
These sound like reasons for more of us to consider switching.
Related Stories:
Curious About Electric Cars? We Chat With 2 Satisfied Owners
Chevy Volt: A Family-Friendly Electric Car
Price of Gas Jumps Over 100% in the Past Decade
Ask a Question